Shelf Abuse is the personal blog of British writer, designer and occasional artist Carl Doherty.
What started out in 2006 as a blog purely about comics has evolved over the years into a weekly piece on indie comics and/or self-publishing. Guest writers are always welcome, too, to vent their opinions on the current state of comics, share their favourite books or simply promote their work.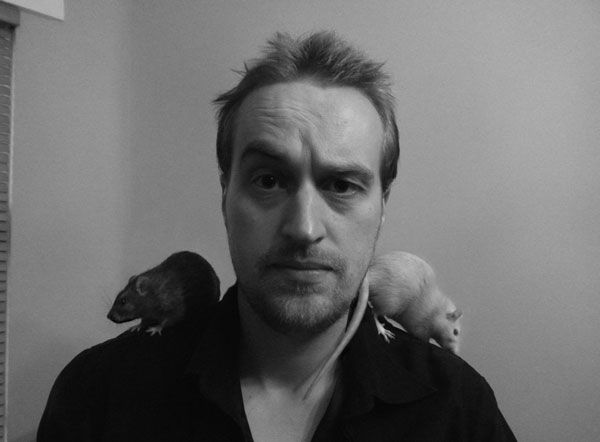 So who the hell are you? 
Carl Doherty, an aesthetically pleasing blend of lovely bloke and idiot savant. I'm also a freelance writer and occasional artist/designer, situated in Essex, England. I've written for numerous  websites and publications, generally reviewing video games, movies and comic – which, in the eyes of the common-or-garden philistine, makes me a big fat geek.
I first started Shelf Abuse (then called HolyCr4p.com) while working as a journalist and critic for numerous sites and publications that no longer exist. I gradually moved back into web design and graphic design, occasionally illustration, and now write as a pastime. Here are a few of my recent accomplishments that I'm most proud of:
In 2018 I helped create and co-curate the Inkhead event, the first comics event ever held in my hometown of Southend-on-Sea. This workshop, in collaboration with Laydeez Do Comics and arts organisation Metal, saw a dozen local and international comic creators enjoy a week of workshops and creative time at Chalkwell Hall, and culminated in a public event. The group reformed for a follow-up workshop event in 2019.
I've self-published several books under my Bothersome Books label, including my mammoth debut novel Welcome to The Fold, as well as Emily Babb's superb dystopian novel These Unnatural Men.
I participated in the judging panel for the 2017 Ghost City Comics Awards.
Other related contributions include articles for such comics-related publications as Multiverse Magazine and SF Signal.
Hang on… if you begin producing your own literature, won't criticising other people's work make you some kind of backstabbing, duplicitous bastard?
Oh, definitely.
In the Victorian era, before creatives were expected to enter a lifetime of student debt, literary criticism was a seen a valid way for fledgling artists to learnt the craft. I continue to blog because a) I love discovering new comics and graphic novels that I'd probably overlook were it not for this blog, and b) to help guide my own ideas on what exactly it is that makes a great comic… well, great.
I shan't deny that over the years, as I've experienced the trials and tribulations of self-publishing and small press first-hand, my tone has mellowed considerably. My main focus nowadays is to celebrate the indie books I've enjoyed the most, so that others may find them and their creators can continue to produce fine work.
Also, if someone wants to dissect my own fiction, I'll gladly put any number of scathing critiques up on the site, no matter how much they make me cry. And believe me, I'm sure they will.
Will you feature my webcomic/graphic novel/book/digital comic?
Do feel to get in touch with your creative projects, but also be aware that I currently receive more review and news requests than I could ever respond to. Apologies to those whose emails I have no choice but to ignore.
Please contact me here. I can't promise to respond to every email I receive, but I do my best to lend at forfeit a few minutes of my diminishing time to read everything I'm sent.
If you're a self-publisher, I recommend reading the Submission Guidelines before you contact me.
Need any help?
Are you jesting with me? I'm not business-minded enough to ever get the site making money, but hey, other misguided dreamers do occasionally use the site/blog as a home for their scribblings.
Anyone is welcome to join in, but please read the Contribute to Shelf Abuse page before getting in touch.
One last thing – what's the deal with the disappearing review scores?
I've long disagreed with the act of applying a numerical value to what is a 70% subjective process, but much like the boy who pulled funny faces during capricious weather I began with little numbers after my critiques and was kind of stuck with it.
However, after a hiatus in 2012, I returned with two goals in mind: to continue writing about the things I enjoy, and to create/promote my own fiction. As the scores felt even less appropriate than before, I decided to start afresh and do away with them entirely.
Additionally, the reason I still bother with this site is that, for all its problems, I love both the comic medium and the comic industry, and tend to enjoy a great deal of what I read on some level. Consequently, perhaps because I tended to review/receive books that appealed to my personal taste, and rarely scout out crap titles to write about, most of my reviews fell into the 7/10 or 8/10 category. Which deemed the scores even more redundant.
The older reviews will retain their scores, though.