This is Indie Penance, my regular(ish) look at the finest, funniest and/or craziest indie projects and creator-owned comics to have come my way.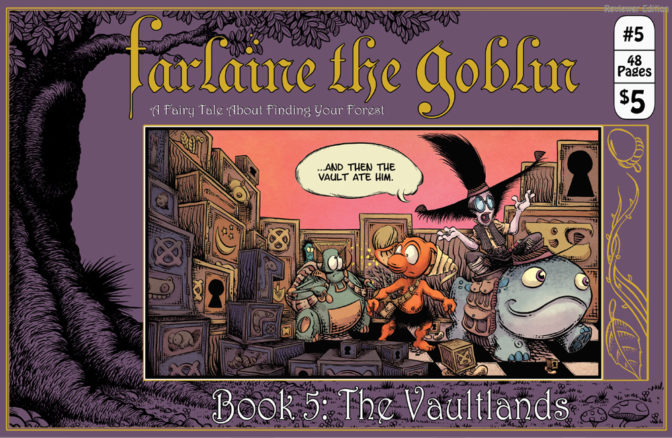 Farlaine the Goblin: Book 5:The Vaultlands
I jumped onto this heartfelt all-ages fantasy series, from the mind of the wonderfully monikered Pug Grumble (at least I assume it's a pseudonym), at the fifth volume. As with all truly good comics, it won me over in a matter of pages, and I plan to get the earlier volumes as soon as possible.
Farlaine the Goblin's plot, which follows the titular tree goblin shaman on an enduring quest to find a forest of his own, may ostensibly appear to be standard high fantasy fare, but the joy is in the details. Grumble's art is clean yet intricate, and both his script and illustrations are crammed with in-jokes and driven by a sense of gentle yet inventive humour that adults and children alike should fined irresistible.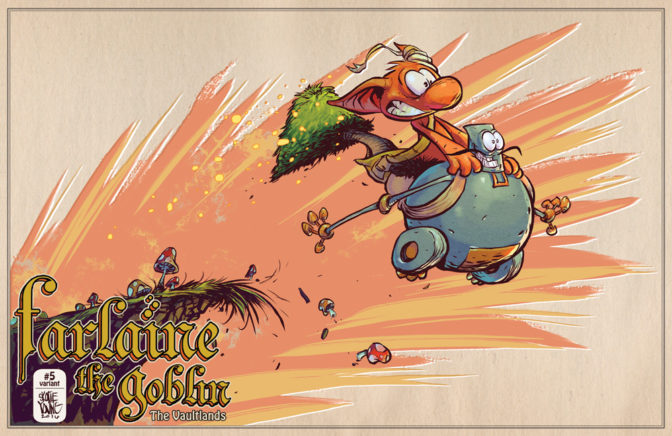 There's plenty on the series at www.farlaine.com, and the first five books are available in physical and digital editions on Amazon. If you're a fan of Jeff Smith's Bone, early Cerebus the Aardvark or Elfquest, or indeed know a younger reader who you'd like to introduce to the medium via something light-hearted and immensely imaginative, then Farlaine is your go-to goblin.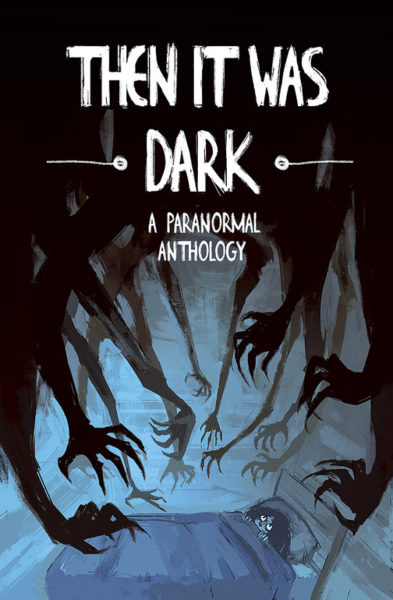 Then It Was Dark
At first glance, Then It Was Dark looks like yet another collection of supernatural shorts. However, this anthology is built upon a rather unique premise: its tales are all based on real-life paranormal experiences and ghost sightings.
Some of the accounts within are personal, others retellings of anecdotes shared by friends, some are deeply private and offer a Freudian glimpse into the narrator's psyche… and then there's a fair few that should probably be taken with a pinch of salt. There's a novel sense of introspection and examination on display here, with the works often having more in common with the Richard Linklater animated documentary Waking Life than a standard horror genre effort.
Visit peppermintmonsterpress.com to find out more about the book, available now on etsy.com, as well as editor Sarah Benkin's follow-up, Built On Strange Ground, a collection of anecdotal tales of local lore that performed impressively on its recent kickstarter campaign.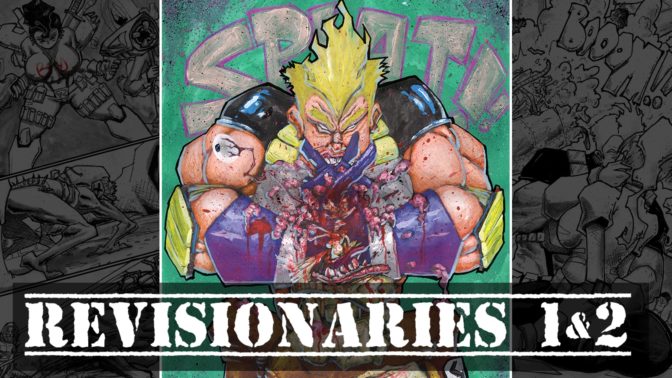 Revisionaries #1-2
Revisionaries, from Andrew Adams (Schismatic) and Argentinean illustrator Nico Sucio, is crude, violent, sexist and borderline racist, but all done with such abandon and tongue planted firmly in cheek that I couldn't help but admire its irreverence.
The World War II series follows ineffectual yet seemingly unkillable solider Malachi Ashkenazy, as he is caught up with a group of moronic time travelling narcissists who've decided to kill Hitler, more for a fun day out than any remotely laudable reason. And they don't care how badly they fuck up the timeline in the process.
Both issues are available at a price of your calling at gumroad.com.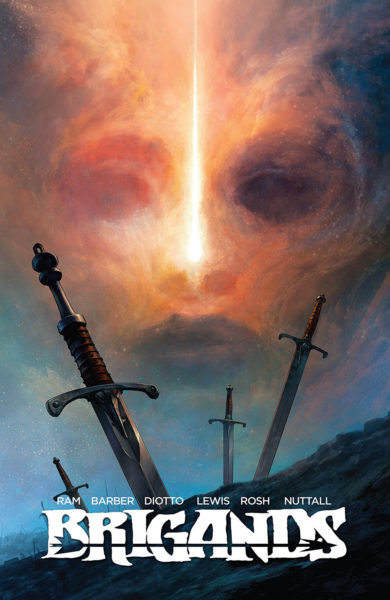 Brigands Volume 1
Action Lab's stellar new fantasy series is a slickly-paced heist, set in a medieval landscape seemingly inspired in equal parts by Game of Thrones and Conan. Stilian Desault is a bad man offered a stay from execution; in return, he must assemble a motley crew of criminals, killers, scoundrels and warriors and steal an artefact of great power.
Brigand's rogues gallery is full of outwardly worthless characters that I initially struggled to like, but as writer Ram V builds upon his world and their backstories, I found myself increasingly engaged and hungry for the next volume.
The art, by Nick Barber, Alex Diotto, Jason Lewis, ROSH, Kel Nuttall and Mukesh Singh, is equally slick and once Desault's mission gathers momentum the story rolls along at a rollicking pace. Volume 2 couldn't come fast enough.
Volume 1 of Brigands collects the first 5 issues, and is widely available now.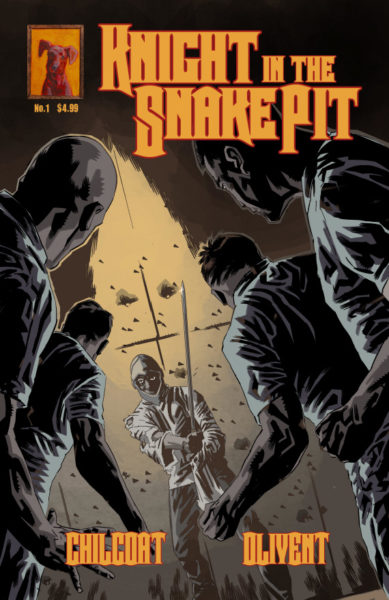 Knight in the Snake Pit #1
This psychological horror from Kevin Chilcoat and Marc Olivent follows amnesic patient Allister Ward, as he jumps Billy Pilgrim-style between a 1940s mental asylum and a medieval fantasy world that may or may not exist within the confines of his head.
The concept of a mental patient turning out to be the sane one may have been done numerous times before – 12 Monkeys and Shutter Island being the obvious examples – but Chilcoat's storytelling is excellent, with a macabre wit running throughout. Olivent's art is equally atmospheric; even the book's fantastical sequences ooze a sense of claustrophobia, offering Ward no reprieve from the nightmarish confines of the asylum.
Knight in the Snake Pit is available now on ComiXology. While this issue works perfectly as a standalone story, I do hope the creators develop it into an ongoing series as is apparently planned.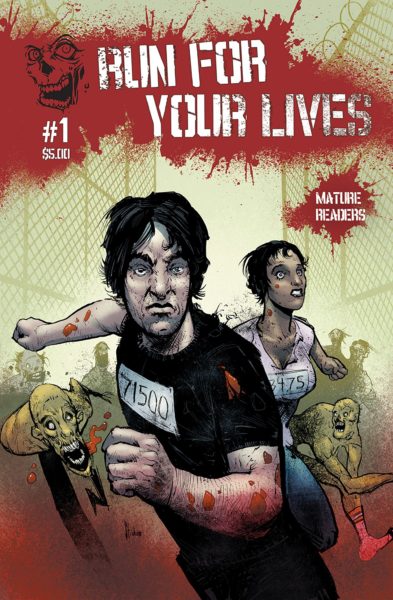 If you enjoy Knight in the Snake Pit, then Chilcoat's previous effort Run For Your Lives will also be a of interest. Illustrated by Kyle Strahm and coloured by Mark Englert, the book was originally conceived as a promotional piece for a real life 5k obstacle course in which zombie actors pursued the participants. As with Knight in the Snake Pit, it wears its influences on its sleeve (chiefly Running Man and Hunger Games) but Chilcoat's sense of character, setting and deliberate pacing definitely deserve the attention of genre fans. Run For Your Lives is also available on ComiXology.