This is Indie Penance, my regular look at the finest, funniest or just darned weirdest indie projects and creator-owned comics to have come my way.
… I say regular, but it's been over two months since my last instalment. Where the hell did February and March go?
Anyway, it's a grand understatement to say that I'm inundated with review submissions. If you're checking here to see if I've covered your work, please bear in mind that were I to write Indie Penance on a daily basis I'd never cover the number of emails and submissions I receive. It's encouraging in the sense that there's more interesting output from indie creators than I could ever hope to cover (and that they deem me worth contacting), but upsetting that I'm having to pick stuff indiscriminately. I'd love to give every submission at least a few minutes of my time.
Oh well, such is life. Here we go again…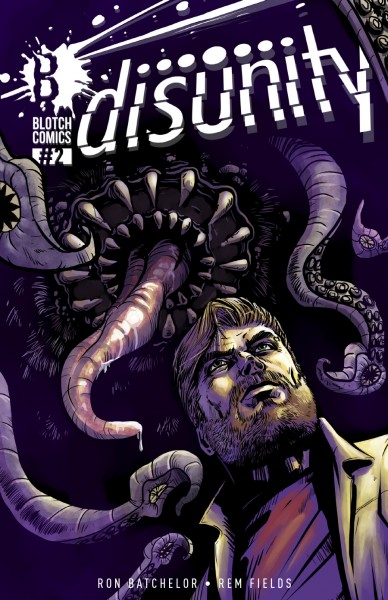 Disunity #1-2
Disunity is one of those high concept sci-fi premises that's difficult to explain without recounting the plot in detail, yet one the successes of this series, conceived and illustrated by Ron Batchelor and co-written with Rem Fields, is that it never feels at all convoluted while you read it.
Regardless, I'll try explaining it in a few sentences nevertheless… two hundred years after his experiment opened an interdimensional wormhole and punctured reality as we know it, John Connati still wanders a broken future, un-aged and immortal. For those two centuries, sections of other worlds have spilled into Earth, replacing cities and landscapes and leaving behind chunks of alien worlds and confused extraterrestrial refugees.
Disunity is immensely imaginative, and I enjoyed the second issue of the series far more than the first, when the noir stylings relax a little and we meet Connati's motley crew aboard the Tartarus, a sentient planet who probably has an ulterior motive for helping them. By the end of the second issue, I'd gone from mildly interested in Batchelor's fractured multiverse to thoroughly gripped, and I can't wait to see how this ambitious concept develops.
Disunity is available from ComiXology's Submit imprint here, though the first issue can be read for free here.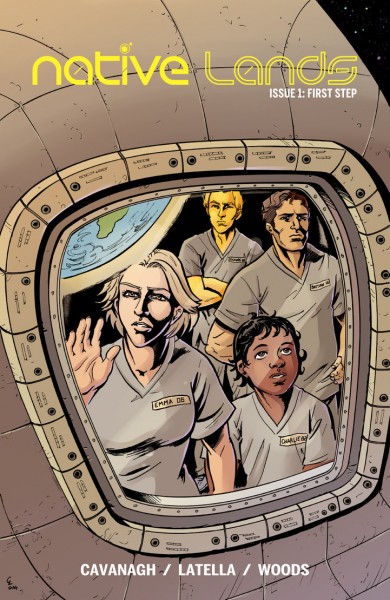 Native Lands #1-2
James Cavanagh's superb Native Lands combines superhero tropes with a slower-paced and more character-driven approach to science fiction than is typically seen in comics, one that perhaps has more in common with sci-fi television series such as Battlestar Galactica or Earth 2 (remember that?). And that's no bad thing at all.
The series follows the survivors of an unexplained disaster in New London that left thousands dead. Known as the "gifted", these survivors have each gained superhuman powers. Imprisoned, tested on and deemed to be dangerous, we meet the gifted as they are being removed from Earth as part of the G-Initiative, a project that hopes to use their unique abilities to colonise a new planet called Terra Five. Or so they've been led to believe…
There's a large cast of characters here, though Cecilia Latella's character designs keep things very clear, and their relationships to one another dominate Cavanagh's narrative. Cleary, Native Lands' focus is on characterisation and eventual pay-off as opposed to immediate gratification, but hey, I'm all for storytellers taking their time, especially in a medium notorious for viewing character development as an oversight.
Given the quality of the first two issues I'm confident that Cavanagh and artist Cecilia Latella are steering this ship in an interesting direction.
Native Lands can be purchased on ComiXology and Gumroad.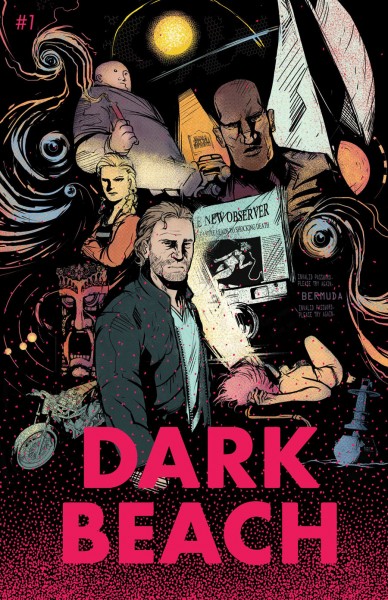 Dark Beach #1
Dark Beach is another title set in a distant but recognisable future. Seriously, I'm absolutely loving the trend towards speculative science fiction in comic books recently, and the three titles featured here are all worth checking out.
Set on an Earth that's slowly drifting away from the Sun, and is illuminated and heated by artificial lights from space, the series follows Gordo, a blackmarket photographer who specialises in sneaking into crime scenes and selling the images to the press. But when his latest shoot involves a corpse wearing a VR headset, Gordo begins to unravel a mystery that may well lead him to discover what caused the planet to fall out of orbit.
Gordo's not a particularly noble citizen, then, though the pitch-black, neon-lit nightscape is clearly taking its toll on his sanity. Perhaps the most interesting thing about Dark Beach's future is how little has changed from our present. I guess the inhabitants of an Earth that's steadily on its way to being frozen over would have no choice but to continue on as before.
As with Native Lands, this is another book that holds its cards close to its chest, and the first issue left me full of questions but eagerly awaiting the next instalment from writers Michael J. Ruiz-Unger and Tucker Tota, and artists Sebastián Píriz and Ray Jones.
Find out more about Dark Beach on darkbeachcomic.com, where you can also purchase the first issue.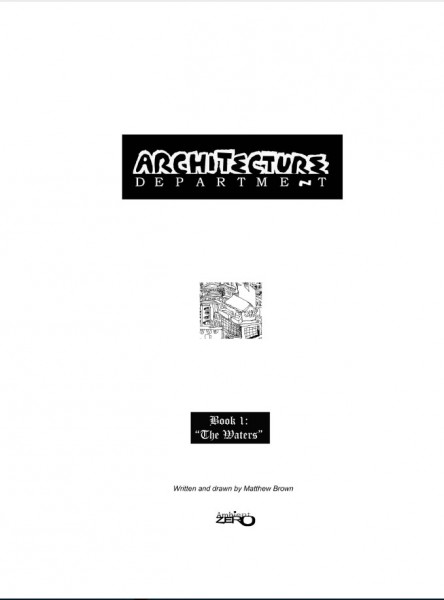 Architecture Department
I had no idea what I was letting myself in for when I picked up Matthew Brown's Architecture Department, and didn't have a much better idea of what it was about as I reached the final page. But that didn't stop me from loving the book and wanting to read it again soon.
Architecture Department is apparently Brown's Master's of Architecture thesis, moulded into a dreamlike narrative of philosophy, mythology and construction. The book follows aspiring architect Bagel Blue, removed from his own doomed existence and tasked with designing a new world, and is ultimately a celebration of design that's imaginative, silly and inspired in equal turns. It also acts as a prequel to Brown's 5-volume "cycle" of graphic novels, The Cliff, dealing with the construction of that series' vertical world.
Aaand this is probably the vaguest review I've ever written, but then this is one of those rare books that is impossible to define. If you're that equally rare reader who is attracted to the indescribable, then Architecture Department is definitely worth a read, and you owe it to yourself to check out Browns' work at www.ambientzero.blogspot.co.uk.