This is Indie Penance, my regular(ish) look at the finest, funniest and/or craziest indie projects and creator-owned comics to have come my way.
Earlier this year I had a humble dream: to catch up with my review backlog so I could feature new indie comics while they remain relevant or are still in the midst of a crowdfunding campaign. That's clearly not going to happen any time soon, seeing as my weekly catch-ups have been occurring at a rate of one per month. Regardless, here we are once more with five comics I've recently appreciated.
Enjoy! Or don't… I can't decide these things for you.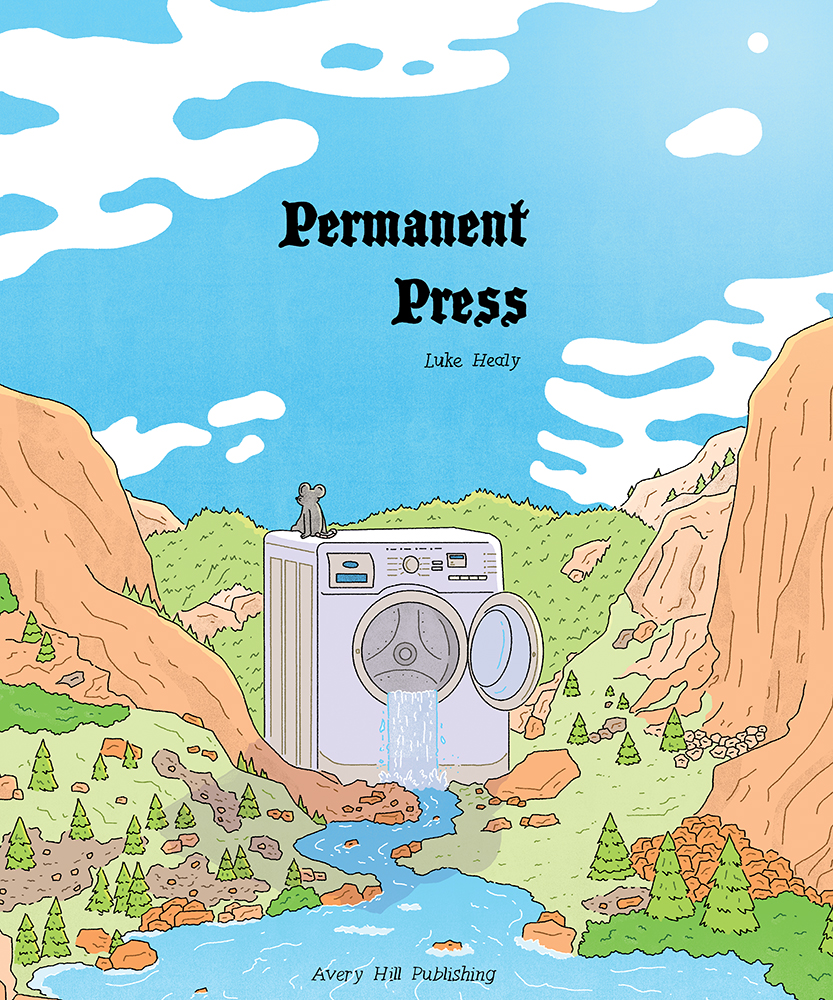 Permanent Press
Luke Healy's mesmerising Permanent Press is a tricksy anthology of autobiographical and self-referential comics that superfluously examines the author's depression and imposter syndrome, driven his obsessive level of self-reflection. If that sounds pretentious, the book kind of is, albeit playfully so. It's also a lot of fun and breathtakingly brilliant in places. The frame story, in which Healy argues with his own shadow over the worth of his material, contains a candidness that any comic creator, or indeed creative, will empathise with.
Healy treats every cog in his machine as integral; each story here works just as well alone. The existential 'The Unofficial Cuckoo's Nest Study Companion' reads like Paul Auster at his finest (and consequently most frustrating), while the latter scenes that see the author undergo a Kafka-esque transformation into a cartoon mouse are somehow more horrifying than they are funny.
Permanent Press is available now, published by Avery Hill.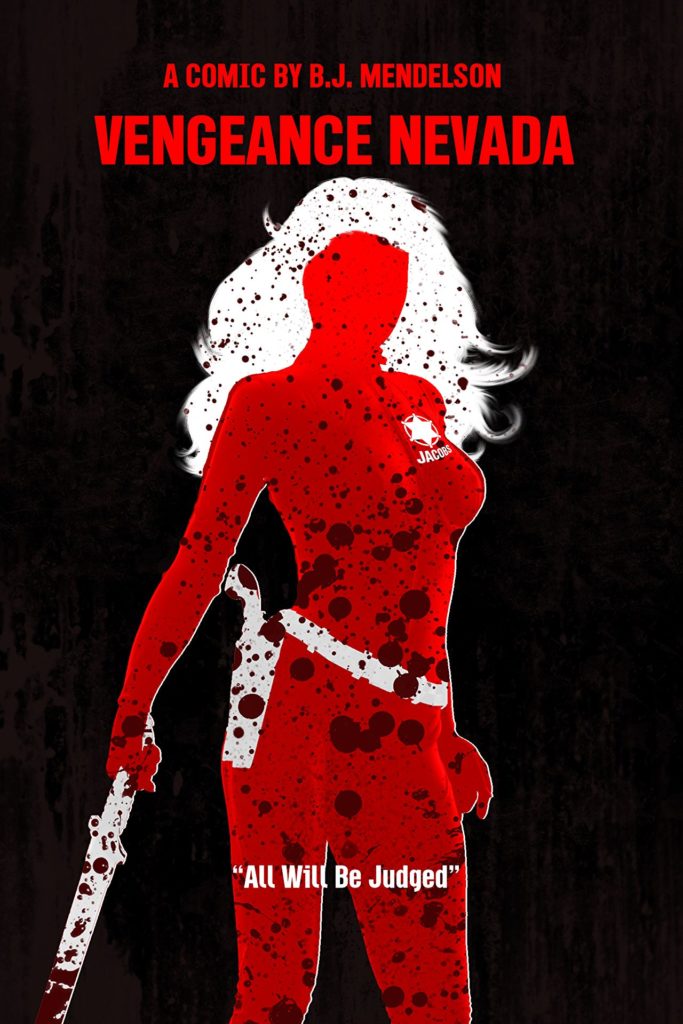 Vengeance, Nevada #1
The comiXology blurb for this mind-bending series from BJ Mendelson (Social Media is Bullshit) and Piotr Czaplarski simply warns: "You should be careful what you wish for." The comic itself is as abstract and ambiguous as that summary, a fusion of sci-fi, horror and superhero genre conventions bolstered by fledgling artist Czaplarski's stylish art, deft use of colour and a slew of curious concepts involving alternate versions of the same character… I think.
The first issue left me with many questions, possibly a few too many, and is in need of a hook, but there's promise here. Vengeance, Nevada just needs to slow down and give me a reason to invest in its protagonist. Despite my disorientation I was intrigued enough to want to see how the series progresses.
https://bjmendelson.imgur.com/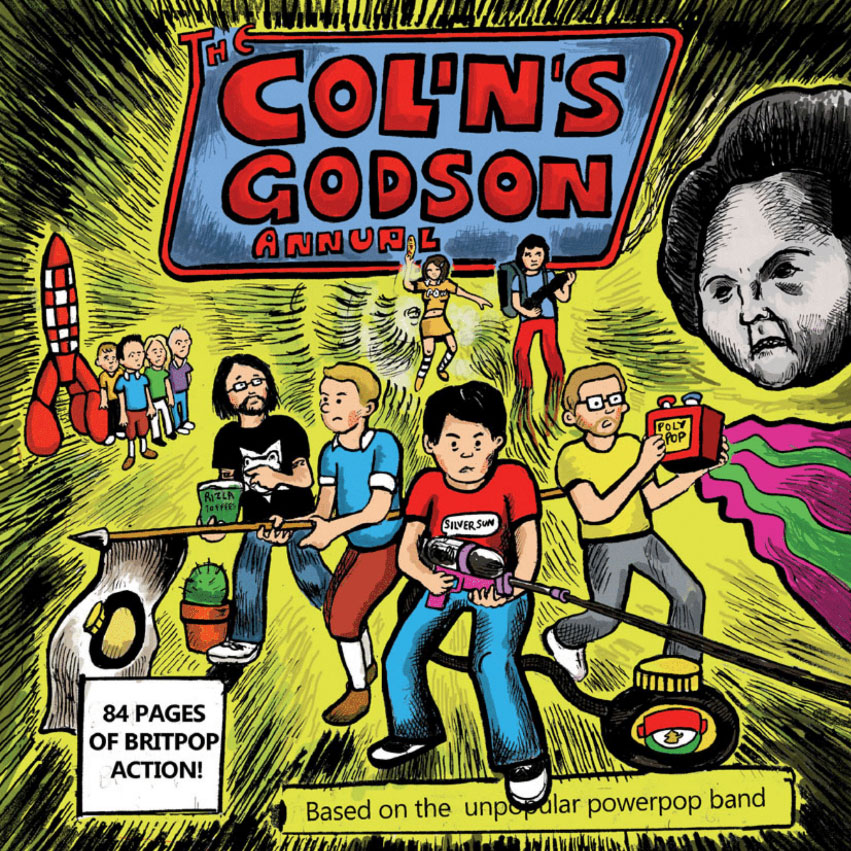 The Colin's Godson Annual
AJ Smith's graphic novel is certainly one of the oddest things I've ever read. Following the fictional exploits of Smith's real-life Scottish power pop band (see video below), The Colin's Godson Annual is so wrapped up in the title band's own history and extensive metafiction that it reaches near Pythonesque levels of self-reference. The band's improbable adventures see them facing a Death Star-inspired space station in the shape of Thatcher's head, travelling back in time to convince Richard Curtis and Ben Elton not to make the dire Blackadder: Back & Forth, and meeting a multitude of Britpop stars both famous and obscure.
It's silly stuff, but genuinely funny and endlessly inventive, and far better than a transmedia tie-in for a pop band has any right to be. Fans of Red Dwarf, Doctor Who, Monty Python and Hitchhiker's Guide to the Galaxy will enjoy the brazen references and mock advertisements immensely – I sure did.
The Colin's Godson Annual was printed in a limited edition of just 20 copies, available here, though it's also available digitally from Amazon.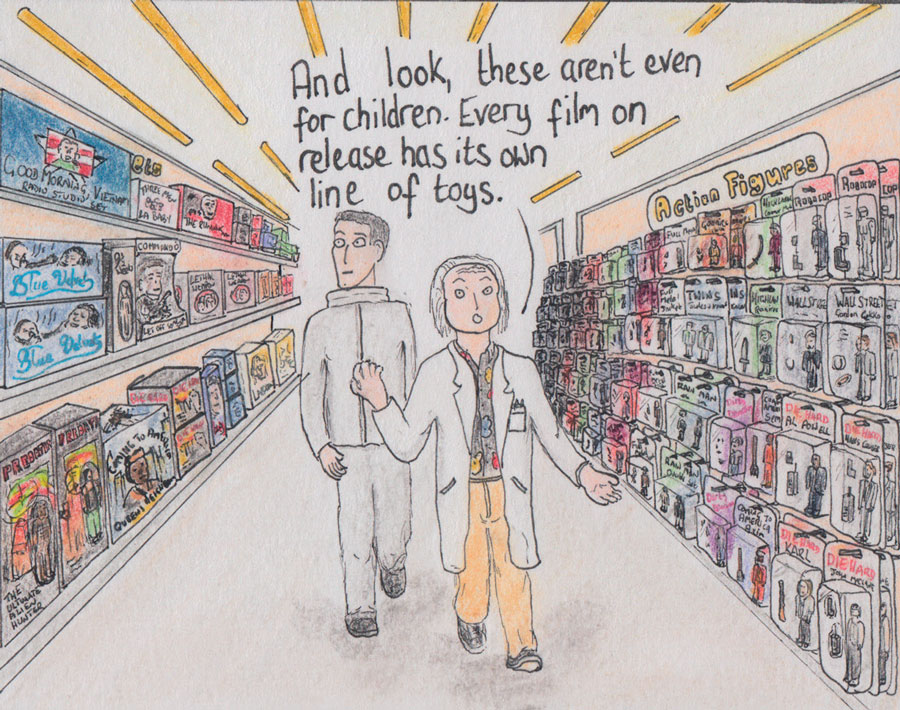 Skip Chippington: Forward Thinker
I almost, ahem, skipped Ian Denno's debut because of its somewhat unpolished pencil-coloured art, but I'm so glad I didn't. Denno's follow-up to his short strip Skip Chippington and the Journey Into Disappointment sees the titular hero and his plucky sidekick Tony Horseflesh travelling into the Manchester of 2115. They discover a future suspiciously similar to the present, only slightly shinier and with comic stores that no longer sell comics but act as blister-packaged shrines to eighties pop culture. Lampooning fan culture's short-sighted fixation on nostalgia with both cynicism and affection (and also the second book this week to feature parody ads), Forward Thinker acts as the much-needed antithesis to Ready Player One et al. It's bizarre and almost consciously inconsequential but rather ingenious in parts and, most importantly, laugh out loud funny.
Available from http://larsenaround.bigcartel.com.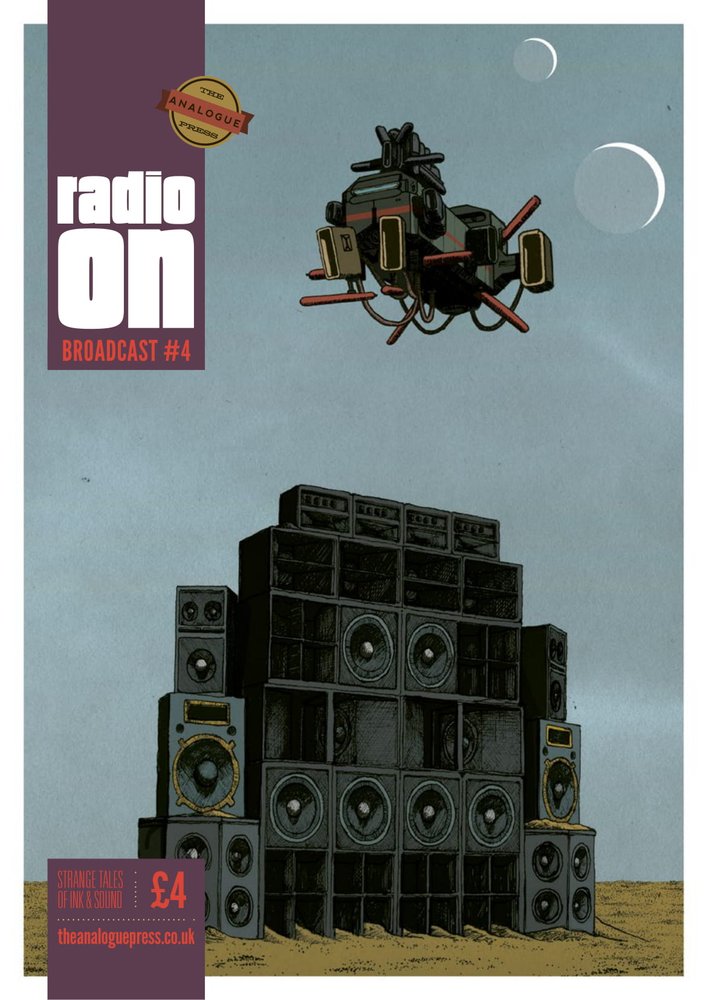 Radio On: Broadcast #4
This annual anthology based around music benefits from a loose approach to its theme. Now on its fourth instalment (or "broadcast"), Radio On's entries are eclectic in style and tone, and tend to tackle the series' theme from a personal or autobiographical angle. The highlights for me are Kit Palmer's simple and sweet 'Caring is Creepy', in which two friends with opposing views on music and art bond during a gig, and Emily Rose Lambert's stirring parable 'The Song of the Armadillo'. I'm not usually a big fan of music-related comics, but Radio On's more intimate slant really won me over. Other contributors for Broadcast #4 include Bob Turner and Darrell Thorpe, with the book neatly packaged by Matthew Tye's slick graphic design work and editor Rob Carter.
Find out more at www.theanaloguepress.co.uk, or purchase each issue for just £4 each at theanaloguepress.bigcartel.com.