Gestalt Comics, 2015
Story: Anne Opotowsky
Art: Angie Hoffmeister
The second volume in Anne Opotowsky's grand Walled City Trilogy is the mammoth Nocturne, a work of sequential art that's as physically heavy and aesthetically pleasing as its story is sprawling and dizzyingly ambitious.
Nocturne resumes several years after the events of the first instalment, His Dream of the Skyland, and postal worker Song is still searching for the children abducted from the walled city of Kowloon, through his position at the dead letter office. But his prying has now attracted the attention of those responsible, and matters are complicated further still with the arrival of ruthless gangster Yip Kai, a leaner and meaner class of criminal whose ambiguous actions prompt a power struggle in and around Kowloon.
Angie Hoffmeister takes over from Aya Morton on art duties, and her work is even more breathtaking. Hoffmeister's characters are better realised than Morton's, and her Hong Kong is far more detailed, even if at times I felt it lacked the dreamlike, ethereal quality that made Morton's warped imagery and giddying cityscapes feel a better fit to Opotowsky's magical realism leanings.
However, familiarity breeds bias, and I'm probably saying this because I read His Dream of the Skyland a month prior to writing this review. Regardless, Hoffmeister does a brilliant job of merging her own style with the sensibilities established by Morton, and both volumes complement each other perfectly, like two dialects of the same language. Hoffmeister's more grounded style and subdued colours parallel Song's passage into manhood, as well as a Hong Kong under ever-constricting British rule.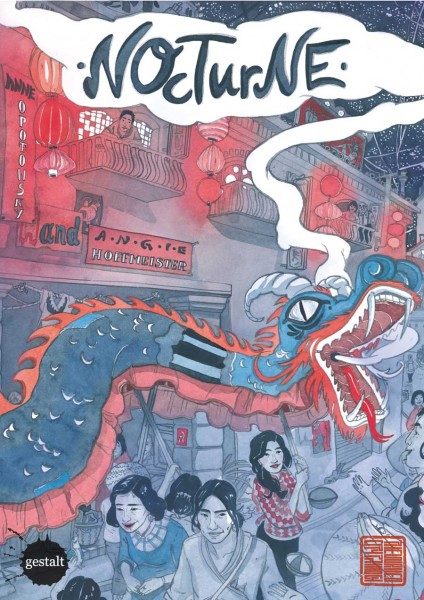 As I mentioned earlier, it's an enormous book, weighing in at around 450 pages, and Opotowsky doesn't hold the reader's hand. I will admit that I got lost a few times while reading Nocturne, with so many characters, subplots and even flashbacks adding layers to the plot with every new scene. As with the first book in The Walled City Trilogy, then, Nocturne is a messy book, but it's a beautiful mess, chaotic in the most creative, ambitious and defensible way.
This being the middle book in a trilogy, Nocturne does lack any semblance of resolution. Even the aforementioned flashbacks, which follow orphan Benjamin as he searches for the father who allegedly abandoned him (while introducing a young lady to the joys of rope bondage) have yet to fully reveal their significance. This was perhaps the one issue I had with the first volume, and it does mean that I finished Nocturne with a hunger for the final volume but the frustration that comes from knowing that I probably won't be reading it any time soon.
When that time finally comes around, I'll certainly want to read both His Dream of the Skyland and this book again. Opotowsky, Hoffmeister and Morton have crafted something truly special here, and as Nocturne's events reach a violent and bloody climax, I felt so utterly absorbed in its exquisite storytelling that I reached that sacred level of… what I guess could be called suspension, that gut feeling which marks a classic in the making.