With Netflix's domination of the streaming television market facing innumerable opponents on every front, it's puzzled me why nobody has successfully introduced a Netflix for digital comics. From a publisher's perspective it makes great business sense, providing yet another way to capitalise on a back catalogue and provide gateways into new publications via older volumes.
Sure, some subscription services exist, such as comicblitz.com, which I admittedly haven't tried, though it looks pretty good. comiXology Unlimited offers a small selection of bestsellers for $5.99 a month, while the otherwise brilliant Marvel Unlimited is, well… limited to a single publisher. There's also an increasing number of smaller subscription services popping up, including those that offer comics as part of a multimedia package.
Comichaus, the British marketplace site that has already proven itself as a real positive force for self-publishers and small press publishers, also has a new subscription service and app out, and I like it. In fact, I like it a lot, and the more I think about what it could represent for indie comics and fledgling creators the more excited I get about it, albeit with a few reservations.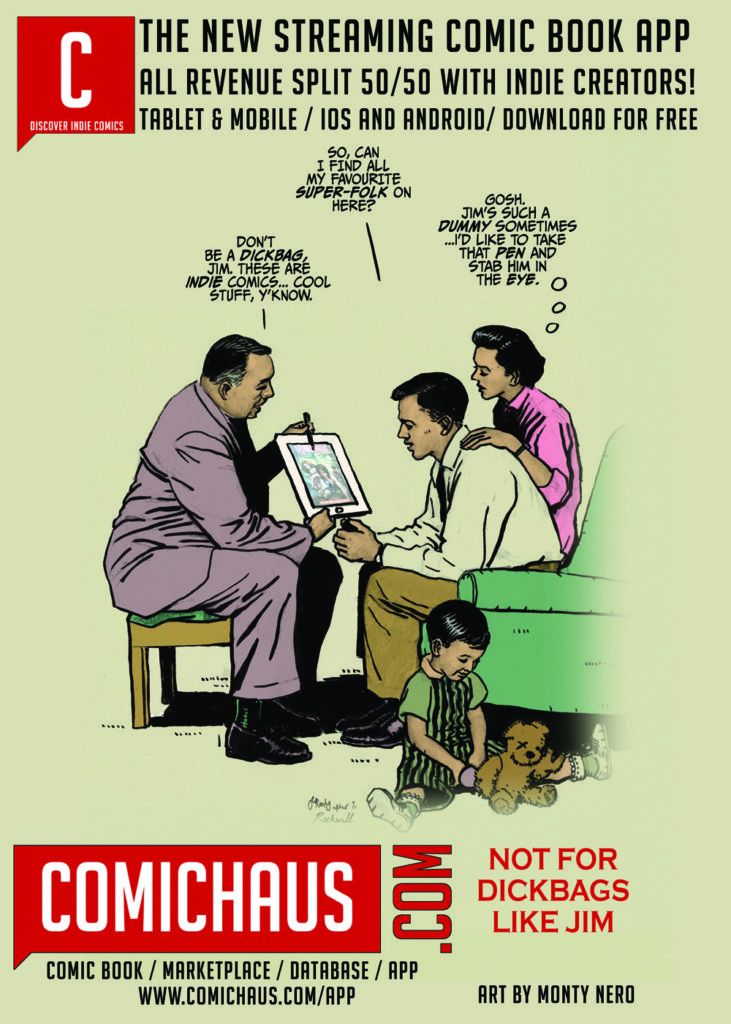 Comichaus is distinct from the aforementioned services for several reasons:
The service is aimed predominantly at the indie comics market (though there are a few licensed titles available).
It's comparatively cheap, at from £3 a month. The same as a single digital comic on many other stores.
Comichaus will split all revenue generated by subscriptions and advertisements 50/50 with the creators.
There's no limit to how many comics you can save onto your device.
For selected titles, users can purchase the hard copy via the Comichaus marketplace.
Again, it's British. Britain may be intent on self-destruction, but it's reassuring to see its comics scene still going strong.
So, for the price of a single comic you get access to numerous news works from the latest indie talent, as well as some familiar staples such as Judge Dredd and numerous older IDW titles including Transformers and 30 Days of Night. The app does feature adverts, which can be removed with a slightly more expensive account, but I found them surprisingly unobtrusive.
Registering was also pleasantly quick and easy, though you need to register online before signing onto the app via your Android/Apple device.  For the sake of disclosure: I was provided a free press account by Comichaus, and used the Android version. I'd love to compare my experience here to my time with Sequential's app, but that doesn't seem to be coming to Android any time soon.
There's a few issues with Comichaus at present, as might be expected from what is early days for the platform. The app is slick and cleanly designed, but could do with a few more common functions, such as a preview of an issue's pages and the ability to scroll pages with a tap as well as a swipe. The latter point may seem a trivial criticism, but it caught me out repeatedly.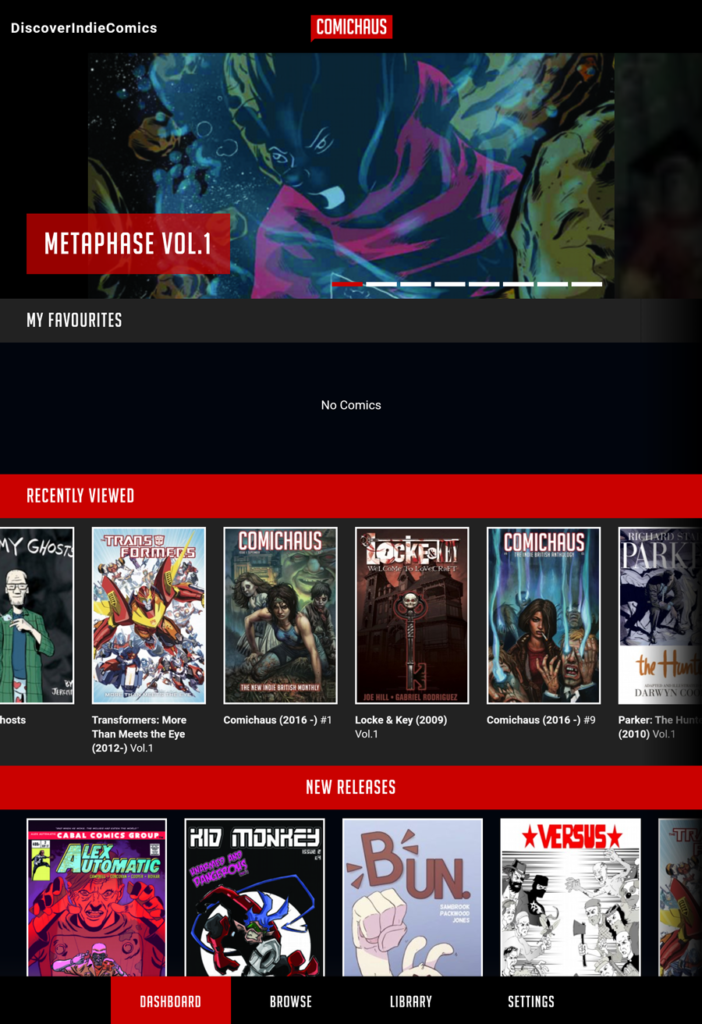 My foremost concern, predictably, is the lack of content. There's a ton of decent titles on here, but not enough series or publishers to sustain a subscribers interest for more than a few months. That's an issue that will need to be rectified immediately, representing a bit of a catch 22 for the platform; less subscribers will mean less revenue and therefore less contributors.
That said, there's a varied selection of top titles that are alone worth a month's subscription, the more recognisable being Darwyn Cooke's Parker, Joe Hill's Locke & Key and Sam Keith's The Maxx, and a ton of cool Alterna titles including Jeremy Massie's All My Ghosts. Hopefully these more established series will encourage people to sign up and consequently explore self-published titles that they may have not discovered otherwise. Comichaus also publishes its own self-titled anthology, now on its ninth issue, that evokes all the energy of eighties 2000AD, and could easily constitute another major reason to sign up now.
There's also Comichaus's new miniseries, the upcoming Lizard Men, from Steve Horry and Catia Fantini (both responsible for the Comichaus anthology's Chalk), and Chiara Bonacini. The series sees a Russell Brand-styled rock star voted in as British Prime minister, only to discover that David Icke's theory of reptilians ruling the world isn't far from truth. It's a fun (and distinctly British) title that will hopefully serve as another incentive for readers to give the platform a try.