Press Release: Everyone whose ever dreamed of starring in their own comic book will be thrilled to hear Copious Amounts Press has just launched Copious Productions, a custom comics division.
To take part in this exciting new adventure, all you have to do is contact Copious Productions at comics@copiousproductions.com, send in a few photos, and they will create a professionally customized comic book page. The only limit is your imagination. The page can be about you, a close friend or even your pet!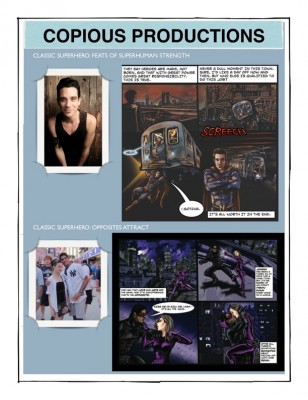 Andrea Grant, founder of Copious, was inspired by Comic Con. "There are always a lot of people running around commissioning art, but it's a rushed experience because the artists are overloaded. What about those who don't make it to the yearly comic con, but still want a custom piece for a special occasion? We are the first ones to provide this unique service."
Grant and her team have created three styles to choose from: Film Noir Detective, Classic Superhero, and Slice of Life. "The most popular has been the Opposites Attract story," Grant says. "We all know danger can be hot. And when hero meets villainess, or heroine meets villain, the sparks really fly – a perfect gift for Valentine's Day!"
In that vein, until Valentine's Day (Feb 14, 2011) Copious Productions is offering an introductory $150 special (discounted from $200). They'll mail you a full-color, enlarged 11×17 photo print, a high-resolution TIFF, and a low-resolution JPG for easy emailing and posts on Facebook.
Visit us at www.copiousproductions.com to see examples of the Custom Comics! Fan us on Facebook at http://www.facebook.com/#MINXcomic