Wizkids Announces Manufacturer Sell-Out
Press Release: WizKids Inc. announces the manufacturer sell-out of their most recent set, Marvel HeroClix®: Giant-Size X-Men (GSX).  WizKids' entire inventory of Marvel Giant-Size X-Men, releasing March 16th, 2011 has been completely sold to distributors worldwide.
The X-Men burst onto the scene in this latest HeroClix expansion dedicated to Marvel's "First Family" of mutants. Marvel HeroClix: Giant-Size X-Men features over 60 new collectible figures including characters from the X-Men's long and impressive history.  Each brick of GSX features one super booster containing one of six giant sized figures.
"The Giant-Size X-Men sell out is the fastest since I joined WizKids in 2006, even though we took an aggressive approach on our print run" said Lax Chandra, President of WizKids Games, "the growing strength of the line can be attributed to our passionate fans, great stores that support us through in-store gaming, a robust game and compelling content."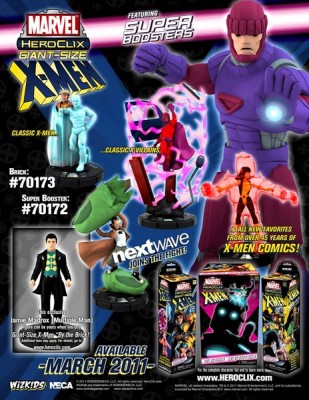 Although supplies are limited, American retailers can still purchase the Marvel HeroClix Giant-Size X-Men set through Alliance Game Distributors or Diamond Comic Distributors and should contact their sales representatives for order information.  International retailers should contact their local distributors for ordering information.
About NECA/WizKids:
A wholly owned subsidiary of the National Entertainment Collectibles Association Inc. (NECA), WizKids/NECA is a New Jersey-based game developer and publisher dedicated to creating games driven by imagination. The HeroClix brand is the most successful collectible miniatures games on the market today, with over 250 million miniature game figures sold worldwide. For additional information, visit www.wizkidsgames.com or follow us on Facebook at www.facebook.com/WizKids.