Titan Books / Insight Editions
Written by David S. Cohen
Foreword by Guillermo Del Toro
Pacific Rim will have a lot going up against it when it's released this Friday. There's the vague and silly name. The comparisons to every other movie featuring robots and monsters, from  Transformers and Godzilla to, ahem, Robot Jox. And then there's the poor timing; after Star Trek Into Darkness and Man of Steel, audiences have been voicing their distaste and ennui regarding  flippant large scale devastation in Summer movies.
But that said, early buzz surrounding Guillermo Del Toro's movie of machines versus monsters has been very highly positive (including a glowing review from none other than Hideo Kojima), and reading through Man, Machines & Monsters, it struck me that Pacific Rim is the first large scale science fiction movie in some time that isn't based on a pre-existing franchise or property.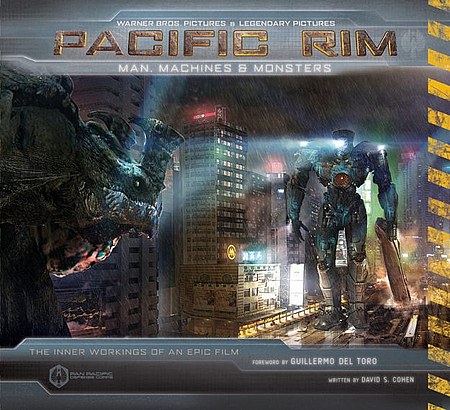 The unknown factor alone has me excited, and Man, Machines & Monsters whet my appetite far more than the clichéd publicity material and uninspiring trailers. This is another splendid hardcover tome from Titan Books and Insight Editions, one which sits somewhere between an Art of… and a Making Of…, with concept art, preliminary sketches, 2025 propaganda imagery, and set photographs of the cast, crew and locales.
The Jaegers, gigantic mechs each built around the colours and motifs of a different nation, are diverse in shape and style, even if they do often resemble various Transformers and anime creations. The Kaiju, colossal beasts from another dimension, are similarly striking; while many moviemakers are content with crafting just one creature for their feature, there's over a dozen to look forward to in Rim.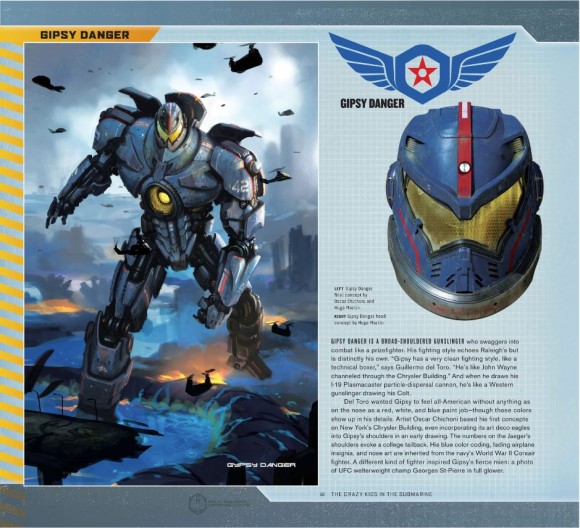 Like some of Titan's recent art books, this volume also contains numerous removable goodies, including mock blueprints, personnel cards, decal stickers and propaganda posters. Hardly essential, but a nice touch, and indicative of the level of creativity and care that goes into both modern blockbusters and lavish companion books such as these.
There's also a foreword by Del Toro, which compares the redemptive journey of the film's protagonist to his own return to filmmaking following the five-year Hobbit ordeal. Hmmm…