Robot Paper
Writer: Jamison Raymond
Art: Ryan Howe
Henchmen #1 is one of those titles that appears out of nowhere and is so full of relatable characters and timely ideas that you just want to run down your local high street screaming like a madman and forcing copies of the book into the hands of anyone with a movie or comic-related image on their T-shirt.
Gary is a portly, forty-something office supply salesman whose wife and job decide on the very same day that they no longer want him. Unemployed and recovering from a botched suicide attempt, Gary takes a job in the classifieds, and soon finds himself a henchman for the villain known as the Headpin of Crime; who, as the name suggests, is quite literally a heavily armoured bowling pin.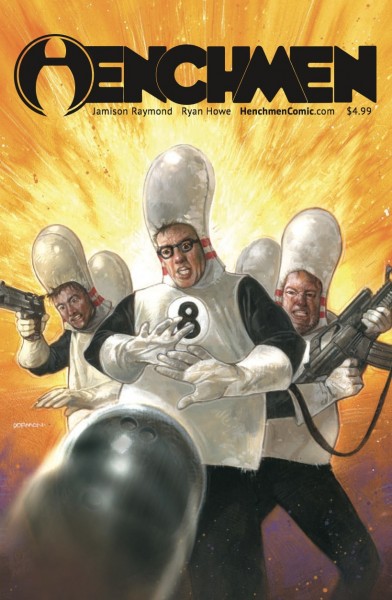 I won't spoil any more of the plot, but anyone familiar with the Austen Powers movies will have a good idea of the direction in which Jamison Raymond takes Gary. There's some nice little touches present in this issue; Headpin is decked out in state of the art armour and weaponry, while his disposable henchman (suitably, there are nine) are forced to hobble about in papier-mâché equivalents.
When Headpin's nemesis, hero counterpart The Striker, foils a bank robbery, Gary sees his opportunity to shine, and Raymond does a great job of writing something that could be either a satisfying and conclusive one-off or the promising first instalment in an ongoing series.
Anyway, do yourself a favour and check out Henchmen #1. It's funny and full of heart, and the artwork by Ryan Howe is excellent – Headpin actually looks (and is) far more menacing than his motif might suggest. To top things off, the cover is by Star Wars and Indiana Jones artist Dave Dorman.
Henchmen #1 will be out "on digital" July 17th, and available in print for early August. Visit http://www.henchmencomic.com for a preview of the first issue.