Action Lab, $3.99
Writer: Dave Dwonch
Art: Justin Greenwood
Colours: Brian Dyck
Dave Dwonch's Ghost Town: Ground Zero does a wonderful job of playing with reader expectations. Just when you think you know where it's heading, it runs in the opposite direction. Part of Action Lab's 'Danger Zone,' a new line of titles for mature readers, it intelligently toys with a novel premise: what if, soon after scientists created a time machine, terrorists stole it?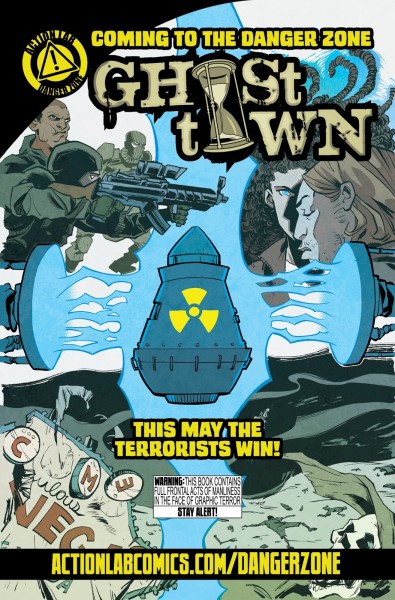 The terrorists in question initially use the device to send bombs into the very near future, blowing up Las Vegas with the promise of more cities to come. But there's a wonderful uncertainty as to exactly what they want and what they could conceivably do next. Recruit Hitler? Rescue Lincoln? Head back to the Garden of Eden and shoot Adam? No, that's just stupid. Nevertheless, the possibilities are endless.
I didn't have high hopes for Ghost Town: Ground Zero, perhaps because it's cover didn't give much of an indication as to its premise, which itself could have resulted in a dumb, shoddily plotted escapade worthy of G.I. Joe. Yet Ghost Town gripped me more than I could possibly have anticipated and managed to defy my expectations at every turn. Dwonch (Double Jumpers) and artist Justin Greenwood (Resurrection, Wasteland) have delivered a masterful prologue to a series that I won't exhaust myself attempting to predict.
My only criticism of this issue is that it's somewhat lacking in memorable or appealing characters. Dwonch's 33-page script is far too concerned with setting up the sci-fi premise in as grounded, plausible and, importantly, entertaining a way possible. Nevertheless, it's been a relentless ride so far, and I've complete faith that Ghost Town: Godfathers & Daughters #1 will build on this issue's potential.