Approbation Comics, 2014
Story: B. Alex Thompson
Art: Federico Santagati
Colours: Russell Vincent Yu
B. Alex Thompson's Hass is pitched as "the story of the dramatic and tragic events that turn a young Black man into a Neo Nazi". But having read the first issue before reading this blurb, I'd honestly have had no idea it was heading in such a dark or fascinating direction, particularly as the story begins with protagonist Josh Jones being assaulted by a group of racists.
The tale then steps back a day, and seemingly adopts the form of an interracial Romeo and Juliet. It's an initially sweet tale, brought to life with much heart and style by artist Federico Santagati and colourist Russell Vincent Yu. Josh's persistent pursuit of fellow student Maggie defines him as a brash but decent young man, and I found these central characters to be substantial and likeable.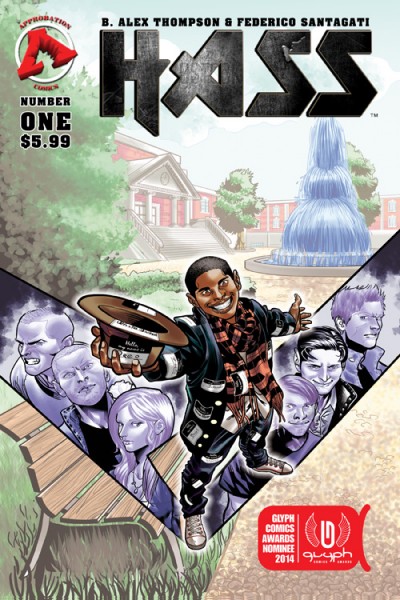 Hass is very much a book of its time and of its country, and while I felt that some of the violence was a bit on the nose, I'll be the first to admit that I'm a white Brit from a dull seaside town with a low crime rate. But I guess that one of the joys of reading "foreign" comics (even if readers in the UK rarely digest American comics as such) is to peer through the window of an alien world. I do my best to stay out of the whole diversity in comics squabble, and will embrace any story as long as it's interesting and features engaging characters. Hass ticks both boxes, and the book's themes felt earnest and not just conceived to play to a demographic.
Hass #1 came out in 2014 and there's no news on the second issue in a planned 4-part series, but I hope it continues. This series could turn out to be something pretty damn important, and from the first issue alone it deserves its share of readers.
This issue certainly left me wanting more, even if I may not feel comfortable with the direction the story is heading. Given the subject matter, however, such discomfort is a sign of effective storytelling. B. Alex Thompson and Federico Santagati might be onto something here.
To check out Hass and Thompson's other Approbation Comics titles, visit alexthompsonwriter.com.