2018, Taco Tinta Press
Written & illustrated by Gustaffo Vargas
Despite posting the reviews a week apart, I read L1MA the same day as Killtopia #1. Gustaffo Vargas's science fiction comic may bear similarities to Dave Cook and Craig Paton's hit, but while Killtopia is nigh-on encyclopaedic in its references to the genre work that inspired it, L1MA presents a singular vision built upon unique Peruvian influences and eccentric technology.
On the brutal streets of near-future Lima, a group of street urchins witness a gang massacre and steal the catalyst; a box containing a squid-like creature that acts as a storage device and is impervious to hacking. As you might have already guessed, somebody wants the mysterious cephalopod back, and they aren't going to knock and ask politely for its return.
Vargas renders a vibrant yet harsh urban landscape, one that's built on a hierarchy of low-tech poverty and cutting-edge wealth. The action takes us from cyber-enhanced slums to sprawling arrays of monolithic skyscrapers, given flavour by Vargas's stunningly inventive page compositions and edgy, aggressive inks.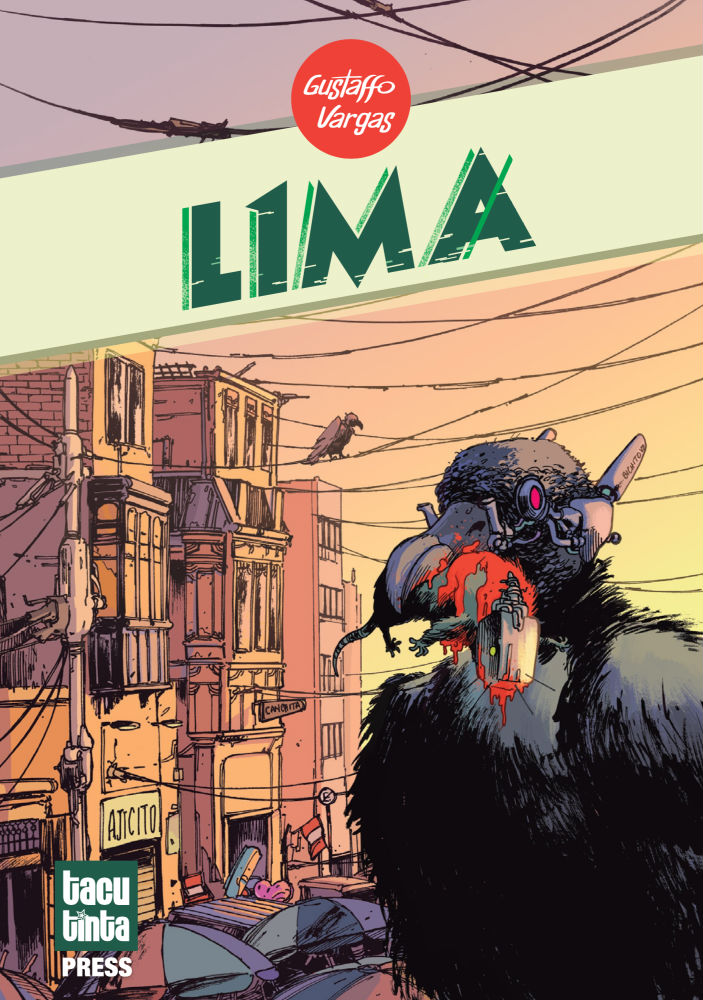 I finished L1MA unsure as to whether it was intended as a standalone story or the first issue of a series. It definitely works better as the latter – despite Vargas' imagination and visual flair there's not quite enough to make us invest in the central youths, and several abrupt scene transitions forced me to turn back a few pages. However, such minor shortcomings could easily be pardoned with a second issue or follow-up to the fascinating concepts introduced here. Vargas is clearly a talent to keep an eye on, and in L1MA's 32 pages has built a sci-fi sandbox that most comic creators would amputate their non-dominant arm for.
L1MA is published by Tacu Tinta Press and available from bigcartel.com.