Writer: Zeb Wells
Pencils: Diogenes Neves
Inks: Cam Smith, Ed Tadeo
Colours: John Rauch
Having fully excavated the nineties, Marvel is now digging deeper in the hope of replicating the success of the recent X-Force reboot. The New Mutants, a title perhaps most famous introducing both the character Cable and the polarising talents of Rob Liefeld, is one such eighties property. While the series received a tepid second volume in 2003, this incarnation of the team is far more similar to the original line-up. In all fairness, the concept of teenage mutant team in training has been reproduced in numerous other titles, the most notable being Generation X.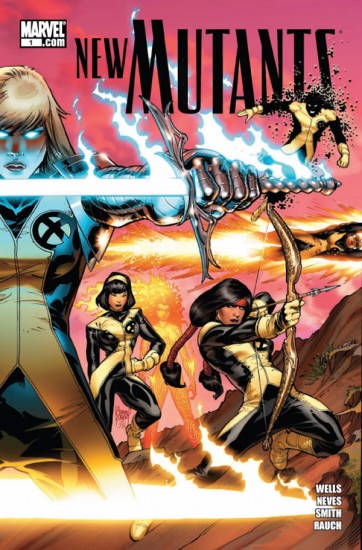 I tend not to judge the first issue of a book by the story it tells, but by whether or not it hooks me enough to buy the second issue. New Mutants #1 just about qualifies as a yes, though only for the "surprise" on the very last page – as the title of this story suggests, Legion makes his return. It didn't help that he's featured as part of the team on the wraparound cover (as is Warlock, last seen in Nova) but it was enough to add Issue 2 to next months list.
Illyana Rasputin has also returned from the future, and she's as crazy as ever. The concept of characters being informed of their fate from the very beginning is something we've seen in several recent titles, including New Warriors, and is probably down to the success of predeterminism focussed shows such as Lost and Heroes. But again, it worked in sustaining my attention.
It didn't hurt that this was a lovely looking book, either. Zeb Wells' character illustrations strike the right poise between conventional comic art and Jay Leno-chinned caricatures, and John Raunch's colours are exceptional. All in all an enjoyable title, if by no means essential.
7/10