Image Comics, $2.99
Writer: Robert Kirkman
Art: Tony Moore
With Robert Kirkman's seminal zombie series making the transition to lucrative multimedia franchise, the first few issues of Image's weekly reprint have served to remind us just how humble this series' beginnings were.
Yet even by issue 4 of the The Walking Dead it's clear that what initially looked to be a generic tale of lone survivor vs. zombies is a far more delicate story of ordinary folk struggling to survive in a world without civilisation. The character-driven scenes of everyday life juxtapose with the sort of brutal comicbook carnage the pundits demand in such a natural, fluid way that it's ponderous as to why no other undead-themed comics even attempt Kirkman's level of pathos.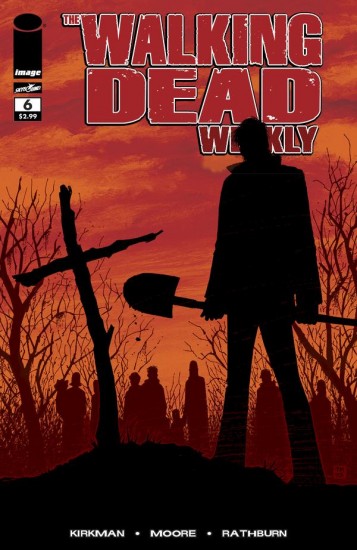 If Rick's venture into a zombie infested city for supplies in #4 feels somewhat regulatory, it's the surprise undead attack in #5 that sets in motion a Kirkman standard that will become synonymous the series; the culling of characters we've become unhealthily attached to. Damn him. The finale to #6 is equally tragic, and genuinely unexpected.
Tony Moore's makes his exit from the series here (though he continued to provide the covers), with Charlie Adlard taking the reins on what will soon be an 80-issue run. Moore's take couldn't be more different; bolder and more animated than Adlard's, yet admittedly contradictory to the Walking Dead's unremittingly bleak tone.