Action Lab Comics
Writer: Dave Dwonch
Art: Bill Blankenship
The setup for Double Jumpers is simple: a group of programmers find themselves trapped in the fantasy role-playing game they're testing, Dungeon Lords, while the archetypal personalities of the group's in-game counterparts run amok with their physical bodies in Las Vegas.
Okay, so the body-swap plot formula has been used enough times that it's become the expected star vehicle for any young "talent" Hollywood deems worthy of stardom. But execution is everything, and Dave Dwonch and Bill Blankenship pack enough references into the first issue of Double Jumpers to appeal to every possible disciple of nerdom; from comic and video game fans to LARPers and cosplayers.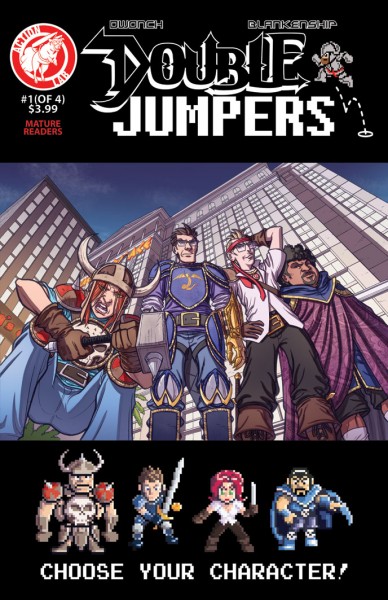 I loved Bill Blankenship's art throughout; he has an animated art style which felt as at home within the claustrophobic confines of the videogame convention as it did within the Dungeons and Dragons inspired landscapes of Arganon.
Dwonch's cast of ineffectual geeks is so spot on that you are able to imagine them quarrelling off-page. Which, I suppose, is my one issue with this trade – its premise shakes up the characters before we've had the opportunity to fully know them. I enjoyed the first issue for its (presumably) astute take on video game development and Blankenship's background references, but the scenes within Arganon weren't nearly as entertaining as the series' more grounded business and romance driven conflicts.
Dwonch also writes the exhilarating "terrorists with a time machine" series Ghost Town, which shows an impressive diversity of talent.
Double Jumpers is an entertaining read and has a lot of heart to counterweigh its adult humour (this trade is part of Action Labs' Danger Zone imprint), and I'd love to see these characters in another "adventure", albeit hopefully one which plays more on the love/hate relationship between games developers and their devoted fans than the sort of swords and sorcery parody that can already be found elsewhere.