Writer: Ian Flitcroft
Art: Britt Spencer
"Logic will get you from A to Z; imagination will get you everywhere."
I've often felt that there are two opposing schools of thought when it comes to educational literature and documentaries; that information should be presented in as dry and reverent a manner as possible, or spruced up in a way that is fun, engaging and hopefully memorable. Journey by Starlight: A Time Traveler's Guide to Life, the Universe, and Everything, a graphic novel based on Dr Ian Flitcroft's award-winning blog of the same name, takes the latter approach to the extreme, guiding readers through Einstein's life, thoughts and theories with ample humour and charm.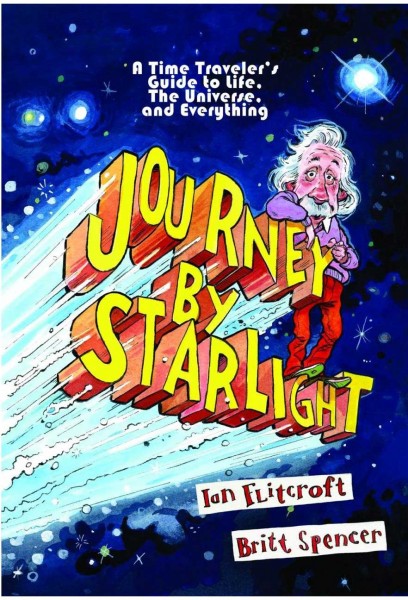 This informative graphic novel takes on everything from Einstein's theory of relatively to the nature of black holes, in an accessible guided tour conducted by none other than Einstein himself. It's a dubious approach, perhaps, and one that gives the book the tone of an American educational animation from the 1970s. But as Flitcroft and artist Britt Spencer's comical avatar takes you from the basics of the universe through to the meaning of life, it's impossible not to be swept up by the book's wit and enthusiasm.
And isn't enthusiasm what it's all about, really? A recent study into sequential art suggested that learners are able to retain knowledge better through a combination of imagery and words than pure text. Flitcroft previously wrote for New Scientist's Do Polar Bears Get Lonely? and this book is similarly divided into bite-sized chunks, with chapter titles such as "How can light go around corners?" and "Do aliens exist?"
Journey by Starlight runs the risk of being condescending to its audience, but beneath Spencer's fun imagery lies dense scientific fact and complex theory. Flitcroft and Spencer have produced something that younger students will have no difficulty in grasping, yet is crammed with more than enough nutritional value to entertain and enlighten all but the most cynical.
Journey By Starlight is available now, and published by One Peace Books. To preview the book, visit www.journeybystarlight.com.