Action Lab Entertainment
Story: Jeremy Whitley
Art: M. Goodwin
Comedy in comics is not so much a difficult thing to execute as it is to establish; we need to know a character's quirks before we find them funny. I first encountered Princeless a few weeks ago during Free Comic Day, and gave up reading the brief promo a few pages in.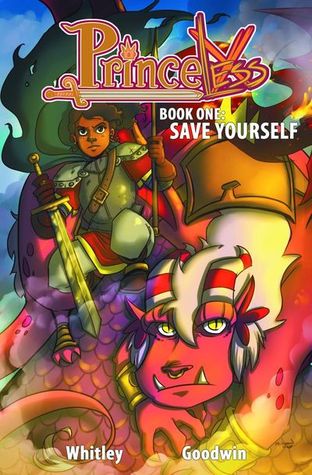 My mistake, then. Action Lab's charming, Eisner-nominated all-ages series is a much needed parody of the gender roles played in fairy tales and high fantasy fiction. It's also very, very funny – as was the FCD offering when read following this trade of the first 4-issue miniseries.
The series follows Princess Adrienne, who, along with her five older sisters, was locked in a tower by her tyrant father on her sixteenth birthday, in the hope that some gallant knight will prove himself worthy of the throne by rescuing one of them. The problem is, Adrienne neither wants nor needs rescuing. After she informs Sparky, the ineffectual dragon which guards her tower, that his role in life is to essentially be beheaded by a knight in shining armour, the two head off to rescue Adrienne's other sisters.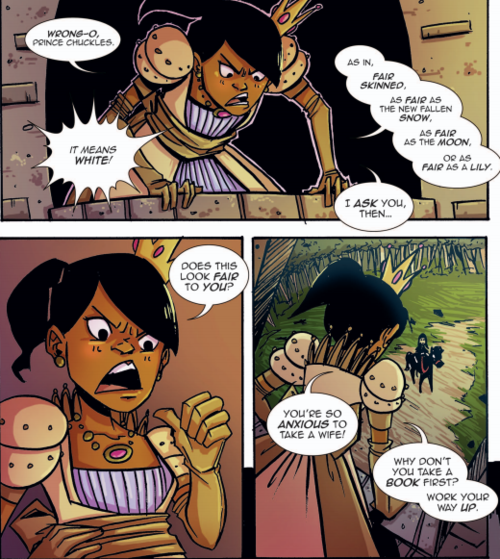 We live in an odd media climate, and much like cinema, the comic medium is undeniably dominated by the male gaze. And the occasional attempts to cater to female comic readers and gamers usually blindly fall under the same criticisms. Perhaps where Princeless succeeds most is in portraying characters who not only play against genre expectations, but are appealing enough in their own right.
Jeremy Whitley satirises such conventions with aplomb when Adrienne encounters Bedelia, a blacksmith's daughter who designs the sort of female armour (the "Women Warriors Collection") that Xena would find a bit too revealing. Cue a great exchange on the protective value of such skimpy attire.
Whitley's script achieves that fine balance of fun and wit, and will appeal to older, genre savvy readers, while the fast-paced action and Goodwin's lively, manga-inspired artwork will instantly draw in younger readers. It's a shame that mainstream publishers rarely strive for the same; even more of a shame that they so seldom succeed.
Series 2 of Princeless has just wrapped up – here's hoping the series continues to gather a following. There's plenty of mileage left in Princeless's characters and premise.