Titan Books, 2015
Story: Jean-Francois Di Giorgio
Art: Frederic Genet
I picked up the new Samurai omnibus, now published by Titan Comics, with little knowledge of the series or its French creators, other than the fact that the series had been collected by Marvel a few years earlier (as Samurai: Legend in 2009, to be precise).
Kazuo Koike's Samurai Executioner and Lone Wolf & Cub series are clearly a big influence on Jean-François Di Giorgio's storytelling. The stoic Takeo is a compelling and mysterious hero, with the swagger of Yojimbo but a compassionate side that distinguishes him from many of the Western-inflected samurai fiction archetypes.
But Frédéric Genêt's art is the main draw here, breathtaking in its detail and scope. His Imperial Japan feels both faithful and fantastical, and the plot deftly jumps between historical commentary and a mystical cult that is hell-bent on resurrecting a demon known as the 13th prophet.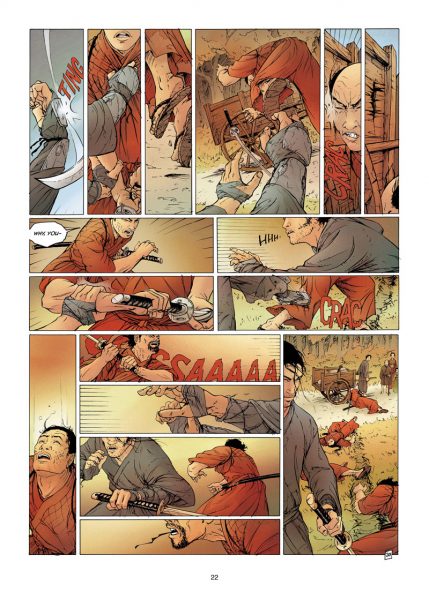 For the first two thirds of this book, the combination of clichéd but hugely compelling characters, Genêt's beautiful art and a magical sense of time and place mark Samurai as something truly special. The book has an attention to its world and mythology that consistently blew me away. The final act, however, elevates the fantasy elements at the cost of all that made it Samurai work, and the ending proves to be a bit of a damp squib.
As this is the first instalment in an ongoing series (also now published by Titan Books) the flaccid finale didn't deter me as much as it might on a standalone story. In fact, the first issue of a new series, 'The Unnamed Island,' with covers by David Mack, is out now and continues the story in grand style. Well worth checking out.