2016, Farrar, Straus and Giroux
Adapted and illustrated by Miles Hyman
This year marks the 100th anniversary of Shirley Jackson's birth, which has met with a much overdue resurgence of interest in her body of work. While Jackson's sublime 1965 novel We Have Always Lived in the Castle has slowly earned its place as a cult classic, Jackson will likely remain best known for her 1948 short story The Lottery, a grim parable on ritualism and herd mentality that continues to whisper unspoken truths to modern readers.
For those unfamiliar with Jackson's iconic tale, it follows the residents of a non-descript small town as they prepare for a ceremony known only as the "lottery", in which each head of family must draw a slip of paper from a box. As the townspeople go about preparing for this annual event, the crescendo of which I won't spoil, Jackson's trademark underlying menace is revealed in their conversations regarding the practice, and what it would mean to give up their disturbing but time-honoured tradition.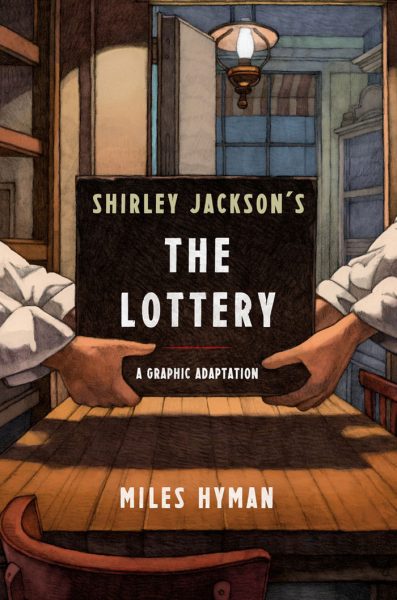 The publisher's press material makes much of the fact that Paris-based artist Miles Hyman is Jackson's grandson. While some might appreciate the gesture of the descendent adapting his grandmother's work, I fell that it did detract from Hyman's own accomplishments as an artist, predominantly Archaia's recent The Black Dahlia, a collaboration with David Fincher and French comics creator Matz. He's certainly a capable talent in his own right.
Regardless, Hyman's eloquent foreword, which will be reason alone for Jackson devotees to buy this book, reflects on his brief relationship with grandma Shirley, who died in her sleep when he was just three years of age. In Hyman's own words, this sequential art reconstruction of The Lottery is "both a faithful rendering of the story and a complete visual reconstructing of its delicate architecture, a meticulous visual retelling of the story in what is ultimately an entirely new language."
This adaptation, then, in an approach that is thankfully becoming the standard, reprints the original text word-for-word, with the graphic novel's worth demonstrated in Hyman's unique interpretation of the ritualistic town and its inhabitants. He's unafraid to take tasteful liberties with his interpretation of the source, his ­meticulous yet comfortless imagery rendered from a distant, often voyeuristic viewpoint, one that retains the story's deliberate sense of foreboding. His work evokes Normal Rockwell, and a period in American history so quintessential and timeless that it now seems fantastical.
I've never been fully convinced by the need for graphic adaptations of literary classics, but Miles Hyman's take on The Lottery is, much like Pablo Auladell's recent Paradise Lost, nevertheless a project validated by its quality and attention to those fine details you might have missed within the original prose, or perhaps interpreted otherwise. Hyman's opening and closing shots, which reveal the idyllic town at dawn on the morning of the titular lottery and with serenity restored by the following dusk, are simply masterful.
The Lottery will be released 25th October, from Farrar, Straus and Giroux. This review was based on an uncorrected proof of the book, which may vary from the finished publication. Check out more of Miles Hyman's work at mileshyman.com.