2019
Story: Eric Peterson, Joe Aubrey
Art: Darick Robertson, Simon Bisley, Gabo
Colours: Diego Rodriguez
It's a fine time to be a comic book fan. The medium is forever heading in new directions, with a greater diversity of voices and artistic approaches to visual storytelling than I could have possibly dreamed of just ten years ago. But for every heartfelt autobiographical graphic novel or experimental self-published zine I discover, it's just as reassuring to know that there are still creators putting out old school sci-fi satire, featuring tough guy antiheroes with biceps bigger than their heads and a cigar perpetually dangling from one side of their mouth.
Space Bastards, as if the title didn't give it away, is one such book, created by Eric Peterson and Joe Aubrey, and envisioned by Darick Robertson. Space Bastards is loud, dumb fun, but, like the very best 2000AD efforts from which this clearly takes its inspiration, it's not without a large measure of acerbic anti-capitalist commentary.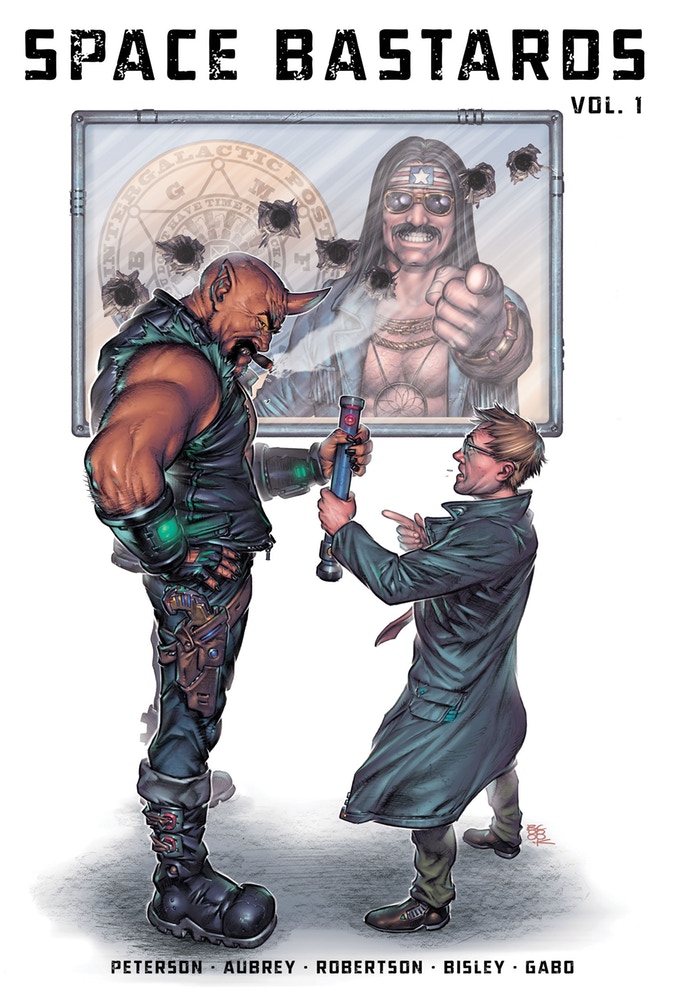 Peterson and Aubrey's snappy script presents a future built on the foundations of the gig economy, where life is cheaper than a Next Day Delivery. Centred around the Intergalactic Postal Service, whose slogan "Because you don't have time to fuck around" tells you all you need to know about the series' irreverent humour, the series' premise initially sounds like the pitch for a multiplayer video game. In a galaxy rife with space pirates, sleazy entrepreneur Roy Sharpton has an idea to deliver mail to the furthest corners of the galaxy where no sane postie would travel. Space Bastards are hardened freelance couriers, determined to get their parcel from point A to B, but with a catch: each passing of the parcel, indicated by the parcel itself emitting an iconic "parcel transferred", raises both the delivery charge and the successful courier's fee. Therefore, it's every Bastard for himself, as the courier initially collecting the parcel rarely makes it to the delivery point.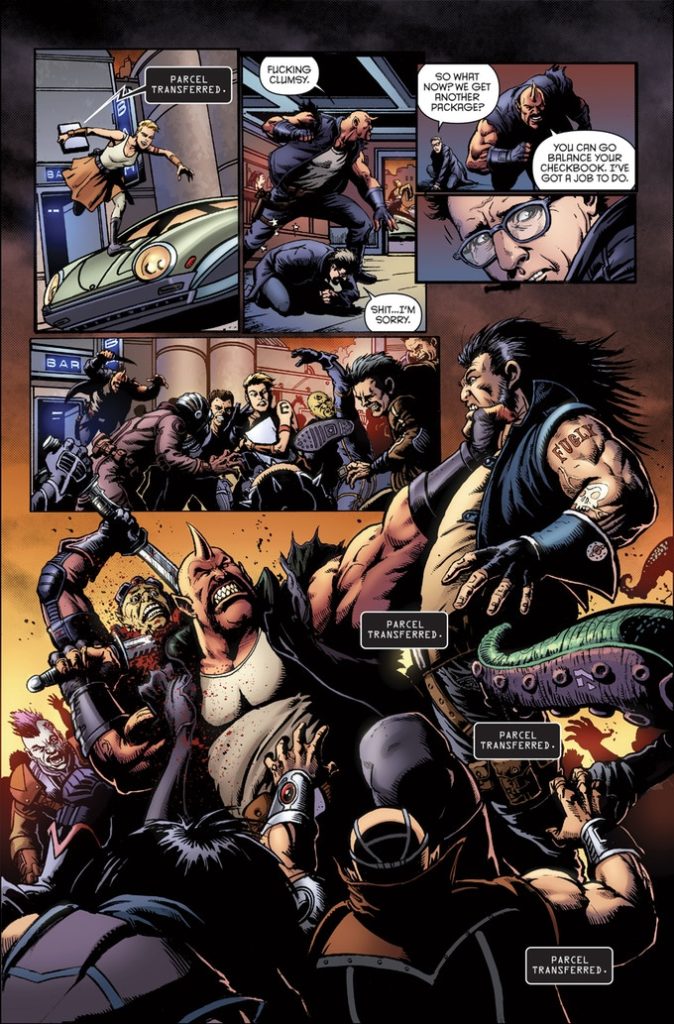 Enter horned brute Manny Corns, introduced in 'Tooth and Mail – Episode One', a murderous ex-con who is not only determined to get his delivery fee, but happy to let the package pass through as many other hands as possibly to raise said fee. However, when Manny has to take on deceptively feeble human trainee David S Proton for a day, he gets more than he bargains for.
This 120-page, giant-sized hardback is split into four parts that work as both chapters and standalone short stories. The aforementioned first segment, and its self-explanatory follow-up, 'Tooth and Mail – Episode Two: The Birth of the Space Bastards', are both illustrated by Darick Robertson, who delivers some of his finest work yet. Robertson's knack for graphic violence, dystopian cityscapes and physically repugnant characters so perfectly utilised in The Boys and Transmetropolitan is given the treatment it desires via Volume 1's larger scale format, lavishly thick glossy paper and vivid colours courtesy of Diego Rodriguez. If you're a fan of Robertson's work alone you owe it to yourself to get this book.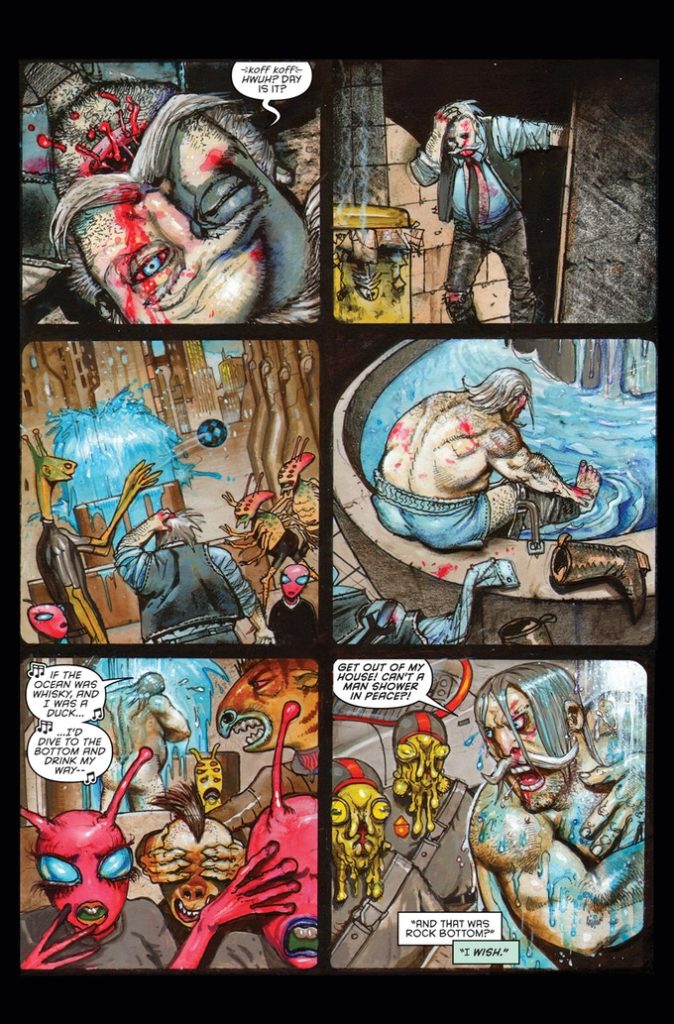 Drawn by the legendary Simon Bisley (Lobo, Slaine, ABC Warriors), third entry 'Chuck "The Magic" Wagon: Space Bastard' tells of an alcoholic's roundabout entry into the IPS. At first it seems like an unnecessary departure, but Chuck's plot veers into the main narrative in a most unexpended and satisfying manner. Gabriel Bautista (Elephantment) takes over art duties for the colourful 'Failed First Days', a series of rather meta moments that show IPS couriers meeting their demise in entertaining and ironic ways. Neither of these stories quite match the energy or satire of 'Tooth and Mail', but they're still immensely fun and serve to demonstrate what a unique and flexible property Space Bastards has the potential to be – Boo Cook, Colin MacNeil, Glenn Fabry and Clint Langley all have future instalments lined up.
I must admit that I began reading this book with considerable trepidation. Space Bastards seemingly yearns to return to an era when 2000AD was a hit machine and its artists and writers were too young, energetic and crazy to have any idea just what they were creating. Times have changed, sadly, and attempts to retreat to simpler, if arguably more inventive, times so often backfire. Fortunately, that's not the case here – amidst the blunt satire, extreme violence, foul language and general misanthropy there's a surprising amount of wit and pathos. Space Bastards is dumb fun, sure, but Peterson and Aubrey are smart enough to know what they can get away with.
As of writing, the Kickstarter for Space Bastards vol 1 has 5 days to go and has just passed its $20,000 goal for a physical, and only physical, Kickstarter-exclusive copy. This resilience to digital distribution, coupled with the book's unorthodox format, lack of publisher and some rather extravagant pledge options only further add to Space Bastards' eccentricity. Despite the commercial premise and glossy presentation this an indie project through and through, fuelled by the passion of its talented creators and high profile contributors.
So, yeah, if Space Bastards' concept or art are enough to pique your interest then fund it if you can. The first volume in this proposed quarterly series begins with a hereafter frame story that shows the main cast seemingly being blown to smithereens, and I don't think I can handle not seeing what Peterson, Aubrey and Robertson have planned for its sequel.
You can also discover more about the series, its world and inhabitants at spacebastards.com.