StudioCanal, 2013
Director: Gordon Flemyng
Cast: Peter Cushing, Ray Brooks, Jill Curzon, Roberta Tovey, Andrew Keir, Roy Castle, Bernard Cribbins
No, not Doctor Who, Dr Who. Amicus Productions' two movies feature a time traveller who is no Time Lord, but a seemingly senile scientist whose surname happens to be Who.
While, in light of the franchise's recent regeneration, it's unfathomable as to why anyone would want to tamper with the core concept behind one of British television's greatest inventions, it's useful to bear in mind that both Dr Who and the Daleks and Daleks: Invasion Earth 2150 A.D. were released to capitalise on the Doctor's popular and recognisable antagonists more than the Doctor himself.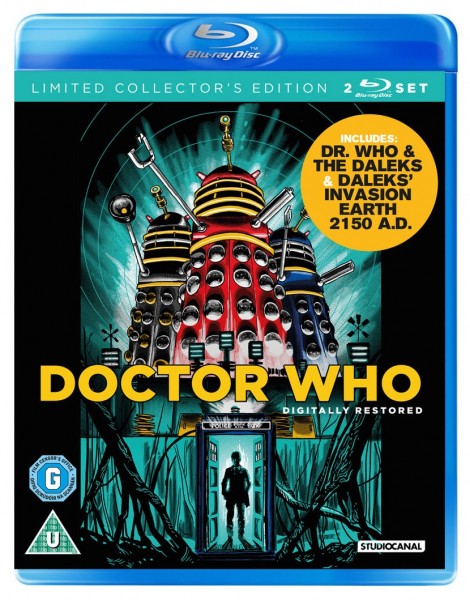 Essentially a remake of William Hartnell's first encounter with the deadly dustbins (The Daleks), Dr Who and the Daleks is a lifeless and oddly static outing, which, despite allowing audiences to see the Daleks in colour for the first time, still feels no larger in scope than the original television arc.
The petrified jungle of Skaro and multicoloured Dalek still hold a certain charm, but Peter Cushing's human Who lacks the arrogance and wisdom of Hartnell's Time Lord, and the result is a baffling remake which has had the original TV show's most fascinating and entertaining component excised. And the franchise may have seen its fair share of irritating companions, but Roy Castle's irritating comic relief is up there with Bonnie Langford.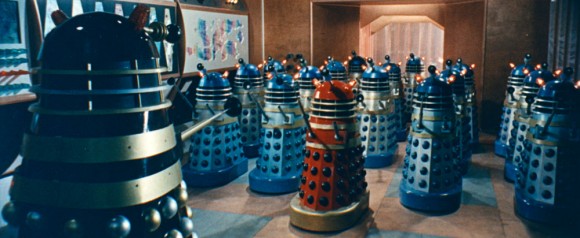 Fortunately, Daleks: Invasion Earth 2150 A.D. features a more engaging and action-packed plot, with far more cinematic visuals. As the title suggests, the Daleks have invaded Earth (well, London and Bedforshire), turning much of the population into mindless, PVC-clad Robomen, and setting the remaining humans about digging a whole into the Earth's core so that they can pilot the entire planet back to Skaro. They don't write them like they used to, folks.
Remaking Hartnell's second battle with the Daleks, Earth 2150 is silly fun, with some nice imagery, particularly the Dalek's now iconic spaceship. Bernard Cribbins, who would years later join the David Tennant era as the wonderful Wilfred Mott, replaces Castle's inept companion, as a local plod who happens to mistake the TARDIS (in this series the Dr's invention) for a police box. You think they'd have locked the bloody thing before setting off.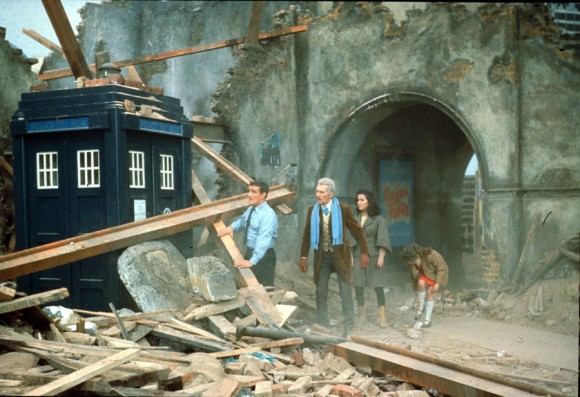 Both films have been digitally re-mastered for Blu-ray. The garish 60s palette of Dr Who and the Daleks benefits most from the work; director Gordon Flemyng made sure that Who's first foray into colour was evident in its set design and costumes. The Thals deserve a place in cinema history right beside the Oompa-Loompas.
Extras on the Blu-rays include audio commentaries, interviews, and affectionate documentary 'Dalekmania,' which offers some nice footage of Dalek merchandise released to coincide with the movies. Each disc also has footage of the restoration process that both films underwent – which is actually far more interesting than it sounds.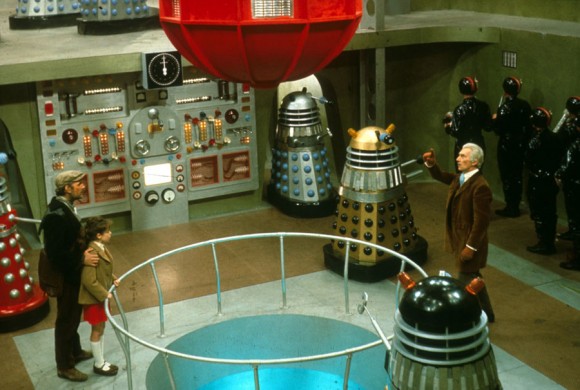 Both Dr Who movies will be available, individually and in the Collector's Edition box set, from 27th May, courtesy of StudioCanal.