1988
Director: Isao Takahata
Script: Isao Takahata
Much like Sunset Boulevard, Grave of the Fireflies begins with the protagonist, Seita, narrating his own death. A janitor finds 14-year-old's body in a train station; the corpse is routinely discarded, as is Seita's one possession, a candy tin. The janitor hurls the tin into a nearby field, across which its contents, ash and bone, scatter and release the spirit of Seita's younger sister Setsuko, who now joins her brother in the afterlife.
No, Grave of the Fireflies don't offer the possibility of a happy ending, and as Isao Takahata's miserable masterpiece takes us back to the 1945 firebombing of Kobe, we know that fate won't be kind to Seita and Setsuko as after their mother is killed in an air raid they find themselves out of the system, deprived of rations, and forced to survive in the devastated Japanese countryside.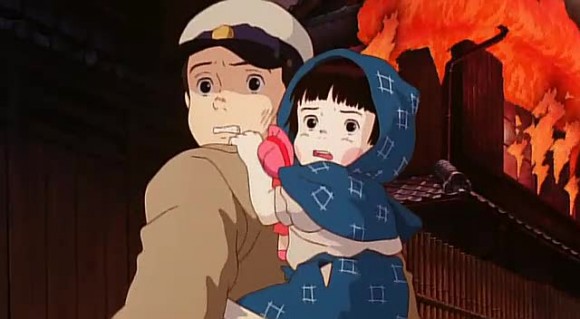 This film is based on the novel by Akiyuki Nosaka, who actually lived through such events. Unlike Seita, however, Nosaka survived, and was forever haunted by the admission that he'd let his sister die of malnutrition to keep himself alive. And yet, Takahata's film is one of great beauty, a melancholy piece which celebrates life and finds joy in the trivial. Takahata's depiction of Japan is unlike any other we've seen in cinema, as are the film's characters – they're the "inconsequential" victims of war that Hollywood would have little interest in (though there are similarities to Raymond Briggs' When The Wind Blows, released just 2 years prior).
Extras include interviews with Takahata and Nosaka, deleted scenes storyboards (some of which are new to this edition), an interview with the late Roger Ebert (who declared the film one of the greatest war movies ever made), and a historical perspective documentary. The film has never looked better, either, though the film's beautiful rural landscapes benefit from Blu-ray more than Ghibli's elegantly simplistic character designs.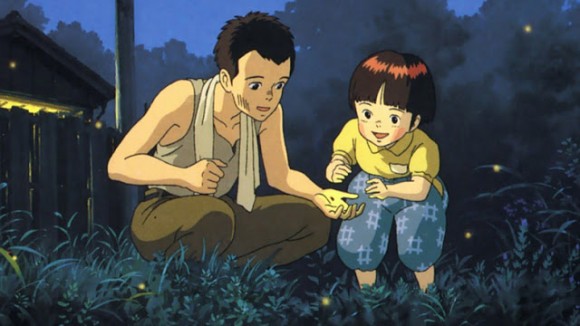 The Double Play Blu-ray features both the original Japanese audio and a serviceable English dub featuring the voices of J Robert Spencer, Rhoda Chrosite, Veronica Taylor and Amy Jones. Studio Ghibli's films are unquestionably Japanese in terms of tone, style and their underlying Shinto themes, and I feel that Grave of the Fireflies loses some of its charm and relevance in translation.
That said, the English dub will allow you to enjoy these films with your family unit. I actually recommend showing this film to older children; it's emotionally powerful, harrowing and likely haunt to them for the rest of their lives. But that isn't necessary a bad thing. Grave of the Fireflies is a masterwork that not only depicts the true casualties of war but proves that animation is as nuanced and emotive a storytelling device as live action or prose.
The Grave of the Fireflies Blu-ray will be released in the UK on the 1st July, courtesy of StudioCanal.