The guys at Alterna Comics have launched a Kickstarter appeal to help promote a short film adaptation of Jeff McComsey's graphic novel series American Terror: Confession of a Human Smart Bomb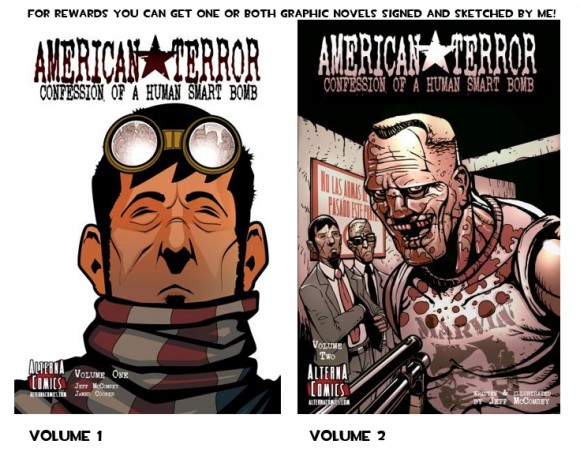 The short, which is planned as a way to garner interest in a feature length movie, will take the events of the first volume in the series:
Victor Shepard, now an old man at the end of his life, lives in obscurity under a false Identity. Alone he counts the days before he draws his last. The Rooster the last of his comrades has passed, en route to his funeral, he is visited by the ghosts of his past, his memories of a life long gone. We then learn of his beginnings, before he became the father of a revolution that would forever alter the world.
The team have finished the film, and are looking for a mere $5,000 to put towards final production touches and promotion. Directed by Eric Ramos, the short film stars Gerald Keyzer, Kenneth Simmons (Kick Ass, Side Effects), and Daniel Berkey (Boardwalk Empire, The Men Who Built America).
Check out the video above and promotional poster below, and head over to
Kickstarter
to take a gander at the numerous incentives on offer. Creator Jeff McComsey also has some brilliant
Game of Thrones
and
Reservoir Dogs
art over at his blog,
Sequential Killistrations
.