I've been away for a while, but wanted to share this trailer for Cartoon College, Tara Wray and Josh Melrod's documentary following the trials and tribulations of a group of aspiring cartoonists at Vermont's Center for Cartoon Studies.
It looks to be an intimate doc which intends to show just how frustrating the cartooning process is. Such creators as Chris Ware, Scott McCloud, Art Spiegelman, Lynda Barry and Charles Burns feature.
Cartoon College is available to rent on iTunes, Xbox, Sony PlayStation, Amazon Instant Video, YouTube Rentals, and Vudu, with DVD pre-Orders available from www.cartooncollegemovie.com.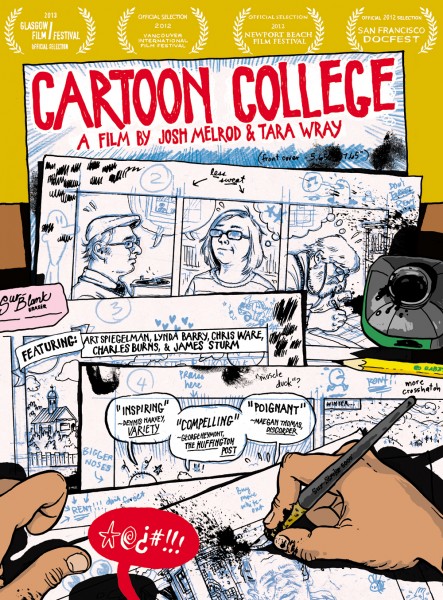 From the press release:
FilmBuff and L.B. Thunderpony Productions today announce the release of the much-anticipated documentary film CARTOON COLLEGE. The film will launch on iTunes, Xbox, Amazon Instant Video, and all other leading VOD platforms on June 11, 2013 released by digital entertainment curator FilmBuff. It will also be available for DVD pre-sale from L.B. Thunderpony Home Entertainment with orders shipping out July 9.

CARTOON COLLEGE, the second film by Tara Wray (Manhattan, Kansas) and first-time director Josh Melrod, documents the growing pains of a group of aspiring indie cartoonists struggling through two years at the Center for Cartoon Studies. Located in the ramshackle village of White River Junction, VT, it is among the most rigorous and grueling art programs in the country. There, students entering the program with visions of fame and fortune are quickly acquainted with the harsh realities of life as an artist. Designed to mimic the frustration and thanklessness of a career in what school director James Sturm calls, "one of the world's most tedious artistic disciplines" the first-year curriculum is affectionately dubbed "the boot camp." As they near graduation and begin to realize that a life in comics might be more pain than glory, the students start to question whether or not they have what it takes to dedicate themselves to the medium. CARTOON COLLEGE is a thoughtful, quirky, and surprisingly heartfelt portrait of those who put art above all else.

An official selection at the Newport Beach Film Festival, Vancouver International Film Festival, San Francisco Documentary Festival, Glasgow Film Festival, and BilBolBul International Comics Festival, among many others, the film features candid interviews with a host of comics luminaries, among them Chris Ware, Scott McCloud, Lynda Barry, Charles Burns, New Yorker arts editor Françoise Mouly, Pulitzer Prize winners Art Spiegelman and Jules Feiffer, and an indie rock soundtrack that includes the music of Tokyo Police Club, Beulah, Archers of Loaf, Portastatic, Tortoise, Quinn Marston, and Jason Zumpano.

About the Filmmakers
Tara Wray's first film, the autobiographical documentary Manhattan, Kansas, premiered at SXSW in 2006 where it won an Audience Award. It went on to screen at Lincoln Center and dozens of festivals worldwide. She is the recipient of a Jerome Foundation New York City Media Arts Award as well as an Anthony Radziwell Documentary Fund production grant. More recently, her work as a photographer has been exhibited at galleries across New England and the Mid-Atlantic.

Josh Melrod was a founding editor of the O. Henry Award- and Best American Short Stories winning literary magazine, the Land-Grant College Review. As a film editor he recently completed the narrative feature Northern Borders directed by Jay Craven and starring Bruce Dern and Genevieve Bujold. His projects have been funded by the New York State Council for the Arts, the New York Foundation for the Arts, the Vermont Arts Endowment, the Vermont Arts Council and the National Endowment for the Arts. He was named among "10 Filmmakers To Watch in 2010" by The Independent. Cartoon College is his first film.

Contact the filmmakers at info@cartooncollegemovie.com.

About FilmBuff
Founded in 2007, New York-based FilmBuff is the leading distributor of incomparable digital entertainment. The Company draws upon its deep relationships within the film industry to curate content that consistently informs, entertains and inspires. FilmBuff designs innovative digital strategies to supply content to all on-demand outlets. Serving as a bridge between filmmakers and audiences, FilmBuff actively engages in conversations with fellow entertainment lovers through its exclusive access, original content and unique voice. Find FilmBuff content on all cable, satellite and telco services, game consoles, online retailers, wireless platforms and hardware manufacturers worldwide. Connect with FilmBuff at www.FilmBuff.com and @FilmBuff.