I don't visit deviantart.com nearly enough these days, but I've recently been directed to a great piece of Hellboy fan fiction from Daniel Whiston, the creator of Neroy Sphinx, and artist Bryan Coyle. Entitled 'Tom O'Bedlam's Last Dance', the strip takes Mike Mignola's curmudgeonly paranormal investigator to 70s London, tackling the ghosts of the Bedlam inmates from the titular 17th century poem with a little help from the resurrected spirit of a London bobby (that's a policeman, for the American visitors).
It's a quality read, too, far superior to most fan offerings. The strip's creators refer to it as "comics samizdat", which is a fucking awesome term that seriously needs to catch on. Whiston captures the feel and grim wit of Mignola's source material, in contrast to Coyle's cinematic rendition of Hellboy that's more in line with Ron Perlman's magnificent portrayal of the character. Coyle's black and white art also pays great attention to the atmospheric Abney Cemetery, which as far as locations for horror goes is the gift that keeps on giving.
The Hellboy strip is available here, so do take a gander, and if you enjoyed that then also check out Whiston's Neroy Sphinx: Back in the Game, a nostalgic science fiction anthology that I reviewed last year and thoroughly enjoyed (review here). I would definitely recommend it to fans of early 2000AD.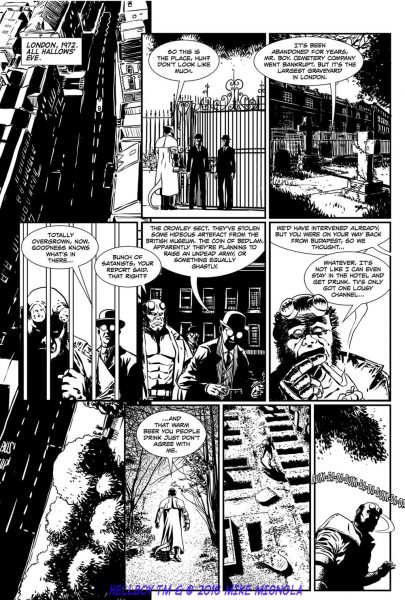 A follow-up to that book is apparently on its way, with some concept art from George Coleman available to whet your appetite here.