Perennial slapstick buffoons Laurel and Hardy are making an unlikely comic book return in Oscar Zarate's The Park, a new graphic novel from SelfMadeHero.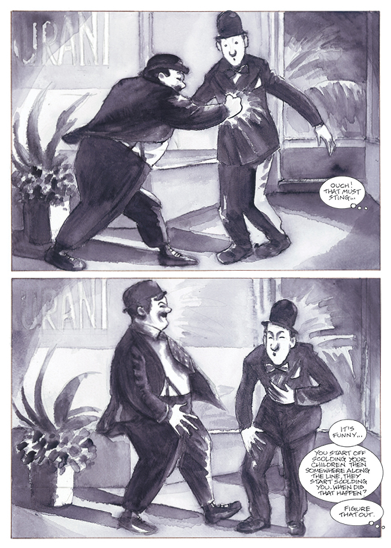 Zarate has recreated scenes from the 1927 silent short You're Darn Tootin' for the Hampstead Heath-set tale:
The story unfolds on a beautiful Sunday afternoon in a North London park. Chris is accidentally bitten by a dog, and kicks out in defence. The dog's owner, Ivan Grubb, a well-known polemicist, vents his anger in his blog, but by elaborating the story for added effect, he cannot foresee the wider impact his comments will make. The Park is a measured examination of how we respond to our confused emotions.
"Laurel and Hardy are part of my life like the books I find myself re-reading through the years, always finding new things, new meanings," says the Argentinian-born artist, who is perhaps best know for collaborating with Alan Moore on A Small Killing. There are so many layers, so many social, political and psychological metaphors all ultimately to do with the absurdities of life".
The Park will be available in hardback on 24th October by SelfMadeHero (RRP £15.99).