As much as I love the touch and smell of paper, I've never really considered myself what you might call a book fetishist. Digital readers are here to stay and I'm fine with that. There's no reason the modern and the traditional can't peacefully coexist.
But today the folks at Aurume Publishing sent me a review copy of Lance Parkin's Alan Moore biography, Magic Words, and some small part of me went mushy.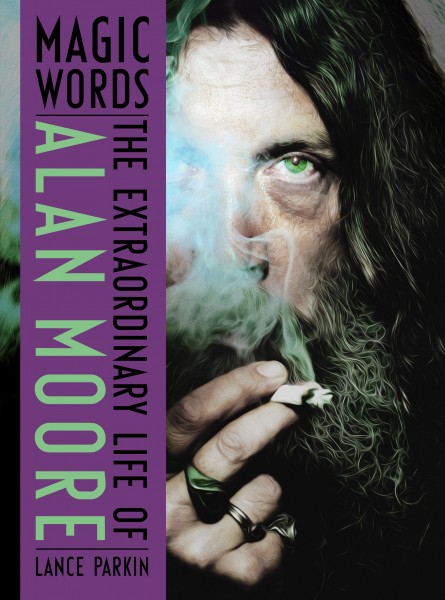 Magic Words: The Extraordinary Life of Alan Moore has clearly been designed with the collector in mind. It's hardback cover is glossy in places, matt in others, and feels like a chunkier graphic novel (think the hardback edition of Charles Burn's Black Hole). Even the interior has an unusual layout and font which evokes the introduction to a trade paperback more than it does your common or garden biography.
In short, I fucking love it.
In fact, Magic Words has reminded me of the tactile quality of books; that first precious tingle one gets from running their fingertips across unspoiled pages. No amount of gadgetry or technological convenience will ever replace that sensation, at least not for my generation of readers.
Of course, the book's contents could be crap. But seeing as Parkin's biography has received the blessings of the notoriously pernickety man himself, I'm willing to base my initial judgments of this particular tone on its wondrous cover. I'll be posting a review before the book's November 7 release.
Magic Words: The Extraordinary Life of Alan Moore is available for preorder from most major online stores, but those in the UK can contact Aurum directly on either 01903 828503 or at mailorders@lbsltd.co.uk and quote offer code APG33 to get the book for £16 including P&P (ISBN 9781781310779).