There was always something about Star Trek that was so wonderfully tactile. I mean, who wouldn't want to wander the bridge of the Enterprise D or hold a tricorder in their own unworthy hands?
For those that a) would and b) are willing to pay good money for the privilege, Propworx (www.propworx.com) is holding its fourth Star Trek auction. The collection of props, costumes, set pieces and memorabilia includes items from all corners of the Trek universe, from the Original Series to the Next Generation movies.
The first 100 items will be going on auction this February 21st, with two more auctions taking place in May and August.
Even if they lack the funds, fans of the series might want to check the rather stylish PDF catalogue, which features clean photos of the props. And while an Original Series phaser is starting at $40,000, there are plenty of less iconic costumes and artefacts starting at just $100.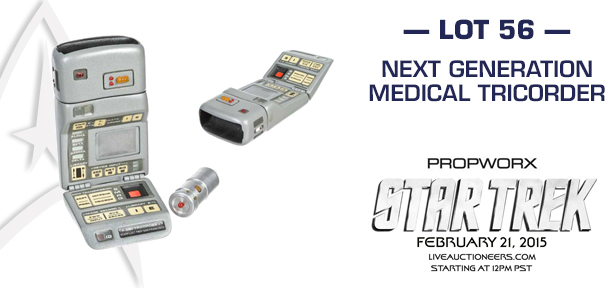 Some of the more recognisable items include:
Star Trek: Deep Space Nine – Cast and Crew Hat $ 50
Star Trek: The Next Generation – 100th Episode Pin $ 50
Rick Sternbach Asteroid Art $ 100
Star Trek: Deep Space Nine – Production Material Lot $ 50
Star Trek: Deep Space Nine – Trials and Tribble-ations Tribbles (3) $ 300
Star Trek: Deep Space Nine – Trials and Tibble-ations Tibble (1) $ 100
Star Trek: Deep Space Nine – Dabo Chip Set $ 100
Star Trek: Deep Space Nine – Klingon Stunt Blade $ 100
Star Trek: The Next Generation – Cobrahead Phaser $ 1,000
Star Trek: The Next Generation – Starfleet Medical Tool $ 200
Star Trek: The Next Generation – Starfleet Medical Tricorder $ 4,000
Star Trek: Enterprise – Capt. Archer Away Team Outfit $ 300
Star Trek: Enterprise – Trip Tucker Starfleet Uniform $ 2,000
Star Trek: Voyager – Neelix Costume $ 1,000
Star Trek: Voyager – Seven of Nine Brown Starfleet Uniform $ 3,000
Star Trek: Voyager – Capt. Janeway Starfleet Uniform $ 3,000
Star Trek: Deep Space Nine – Leeta Baseball Uniform $ 100
Star Trek: Deep Space Nine – Dr. Bashir Starfleet Uniform $ 1,000
Star Trek: The Next Generation – Guinan Wardrobe Lot $ 200
Star Trek: The Next Generation – Female Klingon Uniform $ 300
Star Trek: The Next Generation – Wesley Crusher Starfleet Uniform $ 1,000
Star Trek: The Next Generation – Worf Starfleet Uniform $ 500
Star Trek: First Contact: La Forge 21st Century Outfit $ 300
Star Trek: First Contact: Lilly Sloan Holodeck Dress $ 200
Star Trek: Generations: La Forge Starfleet Uniform $ 1,000
Star Trek: Deep Space Nine – Klingon Battle Cruiser Model $ 500
Star Trek: The Original Series – Grade Phaser $ 40,000