Art consists of comic book pages/artwork from 1991-2010, drawings, sketches and animation art from Frank Forte's personal collection.
Press Release: Frank Forte, publisher of Asylum Press, announces that Asylum Press will be auctioning off it's collection of original comic art, paintings, animation cels, animation production art, comic strip art and signed editions on Ebay.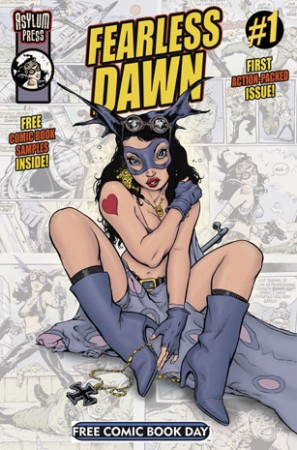 The collection includes original comic pages from The Vampire Verses (by Frank Forte), From Beyonde comic pages, original comic panels by Al Columbia, comic pages by John Cassaday from Spare Parts, Billy Boy comic pages (by Frank Forte), original animation cels from Hoot Kloot, Jackson Five animated series, Original Lone Ranger animated series from the 1960's, Rock Odyssey animated film (Hanna Barbera) production drawings, original background paintings from various 80's cartoons, various short horror stories from 1990's horror anthologies (Cry for Dawn, NightCry, Boneyard Press), original paintings, sketches and more.
"I've been holding onto this artwork for a long time and I'd just like to let it go," says publisher Frank Forte", we need to make room in the warehouse for our new line of 2011 releases."
"We've had a lot of fans ask about The Vampire Verses pages and out of the 4 issues we did, I've only sold a few pages", explains Frank, "with this auction I'm going to let a lot of it go. I've been pulling a ton of cool drawings and paintings out of storage that I forgot about. It's all going up on Ebay."
The auction will run the entire month of March 2011 and beyond.
Asylum Press' Ebay storefront:  http://myworld.ebay.com/asylumpress
About Asylum Press:
Founded in 1999 by Frank Forte, Asylum Press is a unique publishing house specializing in high profile projects from some of the industry's biggest rising stars. Steve Mannion's Fearless Dawn is the company's newest title and has been a great fan favorite. Publishing action/adventure comics with Black Powder: A Bloody Frontier Adventure, Trenchcoats, Cigarettes and Shotguns, Warlash: Zombie Mutant Genesis. And continuing their tradition of horror with Undead Evil, Satan's 3-Ring Circus of Hell, Asylum of Horrors, Zombie Terrors, EEEK! and Beyond Lovecraft, also venturing into dark humor with Billy Boy The Sick Little Fat Kid and The Cletus and Floyd Show, Asylum Press continues to be on the cutting edge of comic and graphic novel publishing. Asylum Press is distributed by Diamond Comics Distributors, Haven Distributors and Tony Shenton and to the Booktrade by SCB Distributors, Ingram and Baker and Taylor.