A Wise-cracking Action-adventure in a Sci-fi Noir Setting
The year 2062: Is the fate of the Earth really in the hands of a half-alien scientist, a female sniper and a talking cat?
Chapter 5, SILHOUETTES & SHADOWS, is a full-color 29 page story, where things don't go as expected for Argent and his team at the Deca-Game, and the action ramps up. The book is now available, on Comixology like all the earlier chapters http://bit.ly/2nh1r1M for only 99¢, and on IndyPlanet http://bit.ly/2AgerK0 as a digital download, also for 99¢ or as a beautifully printed book for only $4.99.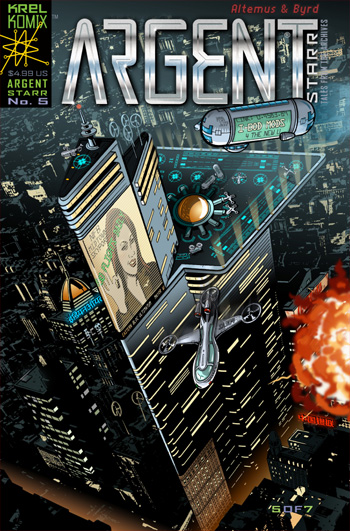 Our fans spoke and we listened! The second printing of chapters 1-3, features hot new covers, new page art and a tighter edit, now Argent Starr's universe looks and reads better than ever.The rest of this seven book arc, for the story of The Quest for the Cardinal Stone, is sure to be an interesting ride for fans of the 'different'! with the title's bi-monthly releases.
Readers who want a sample of Argent Starr's universe can check out our Webcomic at argentstarr.com. Chapters 1—3 are fully posted and FREE to all, If you want to read more get a FREE SUBSCRIPTION, new pages are being released every Monday and Thursday, until the tale is told. And it doesn't end there — a lot more science, fun and adventure is brewing with future issues and spin-offs in production.
"I enjoyed it…definitely be game for future issues"
— Comic Bastards

"What a wild ride this series is…really drew me in…"
— Geeks Of Doom

"…tongue firmly planted in it's cheek…"
— Horror Talk

"…fun to read…wonderful style and…use of colors…"
— Jazma Online
"There's definitely a lot going on…something intriguing…"
— Omnicomic
About ARGENT STARR — Tales From the Archives
Chapter 5 of this 7 book arc, finds Super-spy Lazarus Stern, alien shape-shifter super-grifter Rey Zyten and Argent Starr as they have all converged at the Deca-Game, and every one of them is determined to win. But with opponants like these, if Argent wins, it will only be start of his troubles.
Only one man on Earth, technopath Argent Starr, the half human son of an alien warrior-scientist, can deflect the coming threat. His team; the ravishing Latina commando Mrs. Thorne, and a trouble-making, brain-enhanced, Spanglish speaking cat, Specter. The trio are swept into an adventure pitting a shape-shifting alien gambler, interstellar mobsters, a super spy, a mysterious galaxy-controlling sect, and a drug-fueled BoB, against Argent's hyper-tech powers of magic and super science.
The conspiracies get darker and the guns get bigger both on Earth and out in the wild cities across the galaxy, as Argent reveals his secretive past, and his team set out on a trail of casinos, flesh bars, and mystical artifacts.
Argent Starr is adult entertainment combining hard science, soft sex and satire, for the geeky and not-so-geeky masses; a mix of action-adventure, fantasy and comedy. It features sex, drugs, gambling, espionage, mythical artifacts, showgirls, and quantum entanglement. Fans of Guardians of the Galaxy, The Adventures of Buckaroo Banzai, Fifth Element and Men In Black will enjoy it.
Check out our free Webcomic, animated previews and learn more about Argent Starr's universe and rich back story, at our Web portal argentstarr.com
Follow us at https//www.twitter.com/argentstarr Join us at https://www.facebook.com/argentstarr.
About The Creators
Altemus, a life-long comics and sci-fi fan, is a New York illustrator-designer and Creative Director behind many official souvenir movie magazines; Blade Runner, Goonies, Gremlins, Jurassic Park, Mad Max, Back To The Future, the first three Batman films, Star Wars, and The X-Files.Lyn T. Byrd, an alumnus of New York City's High School of Art & Design, was singer and keyboardist for the '80s synth-pop group, Comateens. The band was among the first of the burgeoning electropop avant garde groups such as The Normal, Suicide, and Kraftwerk. She is also a writer, artist, designer, singer, and song writer, with over fifteen years experience in designing for print and the internet.