David Miller's Peter Cushing: A Life in Film is the definitive account of Cushing's remarkable career published to coincide with the centenary of his birth [Titan Books, 19th April 2013, hardback, £18.99].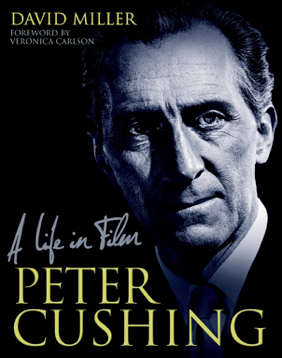 Packed with scores of rare photographs, drawing upon conversations with his friends and colleagues, and from previously unpublished correspondence with Cushing himself, this is a unique insight in to the career of the acclaimed British actor
From Dracula to Star Wars and beyond, Peter Cushing was an unforgettable presence in cult cinema of the fifties, sixties and seventies. He remains, 100 years after his birth, one of Britain's best-loved film stars; "all my friends wanted to be Christopher Lee and I wanted to be Peter Cushing" – Daniel Radcliffe.
David Miller has contributed to such magazines as TV Zone, Starburst and Film Review, and until 2007 he was the editor of Shivers. He co-wrote the book They Came From Outer Space with Mark Gratiss.
Praise for Peter Cushing: A Life in Film:
"Films, stage and television…it's all covered in David Miller's excellent companion which details Cushing's 60-year career." – Total Film.
Peter Cushing: A Life in Film, April 2013 – hardback – £18.99 – 192 pp
ISBN: 9781781162743