Rick Alexander, LA-based producer of upcoming comic book movies, Gravel and Cla$$war, has joined forces with UK-based writer, director and comic creator, Adam Hamdy, the driving force behind the comic book movie, Pulp, and The Hunter comic series, to produce Anomaly, a sci-fi movie and transmedia experience.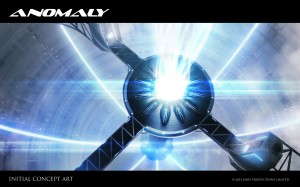 Rick Alexander, an American film and television producer with a life-long love of comic books and a track record of nurturing and developing comic book properties at Hollywood studios, has joined forces with emerging UK filmmaker Adam Hamdy, the writer, director and comics creator behind the upcoming movie, Pulp , and The Hunter comics series, to produce the new feature film, Anomaly, a science fiction thriller around which the two plan to build a comic book inspired transmedia experience.
Anomaly tells the story of Tom Richards, a young man who wakes up in hospital after a terrible auto accident, and his quest to discover the truth about what really happened to him. Further details of the plot are being kept tightly under wraps.
Rick Alexander, who is also producing screen adaptations of two acclaimed British comics series, Gravel, and Cla$$war, said, "Adam and I are beyond excited about the franchise potential of Anomaly, and plan to produce a limited edition comic and digital motion comic which will be launched alongside the movie. Adam's an innovator and likes to push technological boundaries. We've got some interesting plans afoot to showcase what can be done with the comics medium by leveraging the latest creative and distribution technology."
Adam Hamdy said, "Rick and I bonded over a shared love of comic books so it made sense to celebrate the art form by doing something innovative to deepen the movie experience. Anomaly is a dark, sci-fi thriller that has an extremely strong visual identity, so it is the perfect project to straddle the worlds of film and comics."
Anomaly will be written and directed by Adam Hamdy and produced by Rick Alexander, and UK-based Phil Bland, who collaborated with Hamdy on Pulp. Phil Bland said, "We built an extensive cross-platform experience around Pulp, and it was instrumental in forming a relationship with Adam's fans and giving them a richer experience of the Pulp storyworld. We're excited to be doing something even more innovative with Anomaly."
With casting set to begin shortly and principal photography scheduled for a September, 2013 start, the financing for Anomaly has been structured and secured by UK-based Smith and Williamson. Anomaly is being executive produced by Syndicate Works principal Pat Nelson, and Adam Hamdy.
About Adam Hamdy
Adam Hamdy's feature film, Pulp, described as 'Withnail and I meets Spaced', was acquired by Microsoft to be the first movie to premiere on Xbox. Adam honed his visual story telling skills as a comics creator. His critically acclaimed debut graphic novel, The Hunter, has become one of the most widely read independent titles in recent years. His second graphic novel series, Starmaker: Leviathan, was described by IndieComicReview as 'lightning in a bottle'. Hamdy's critically acclaimed debut novel, Battalion, was published in 2012 and has been hailed as a 'blistering techno thriller'.
About Rick Alexander
Rick Alexander is the founder and CEO of multi-platform entertainment media production boutique Alexander Content, and a Producer of the upcoming comic book-based feature films Gravel from Legendary Pictures, and Casanova with Warner Brothers-based Mad Chance. Also a screenwriter, Alexander's assignments have included "reimaginings" of Dressed to Kill for MGM and The Persuaders! for Canal Plus, and his work as a writer-producer on Sony's long-running Lifetime Television drama, Strong Medicine, garnered numerous industry awards. An inveterate comics lover, Alexander counts himself fortunate to have worked on "comics2screen" projects from industry luminaries such as Warren Ellis, Howard Chaykin, James Robinson, Kurt Busiek, and Matt Fraction.
About Phil Bland
Phil Bland is one of the UK's most accomplished young producers. Having successfully produced the critically acclaimed cult comic book comedy, Pulp, and hundreds of other projects, from award winning shorts to feature documentaries, Bland has a track record of delivering high quality filmed entertainment. In addition to his film work, Bland is leading the way in online content generation, and oversaw production of more than forty episodes of the Pulp Interviews for the Pulp/AOL channel. Phil is a founder of Reels In Motion, one of the UK's most successful film and video production companies.
About Smith and Williamson
Since its foundation over a century ago, Smith & Williamson has been managing the financial affairs of private clients and their business interests. Smith & Williamson is one of the top ten largest firms of accountants in the UK and its investment management business has over £12.5 billion of funds under management and advice (as at 30 September 2012).