Cuckoo's Nest Press
Written and illustrated by Elaine M. Will
I went through a troubled phase in my mid-teens, in which I became obsessed with my place in the universe, developed what I now believe to have been messiah complex, and declared myself the meaning of life. Fortunately, I managed to avoid "the system" and soon learned to stop worrying  and love the bomb.
Elaine M. Will's Look Straight Ahead struck a chord with me, then, as it follows a 17 year-old artistic male in a similar predicament. Jeremy Knowles is struggling with manic depression and psychotic bouts in which his illustrations appear to infect the real world and his environment seems out to imprison him.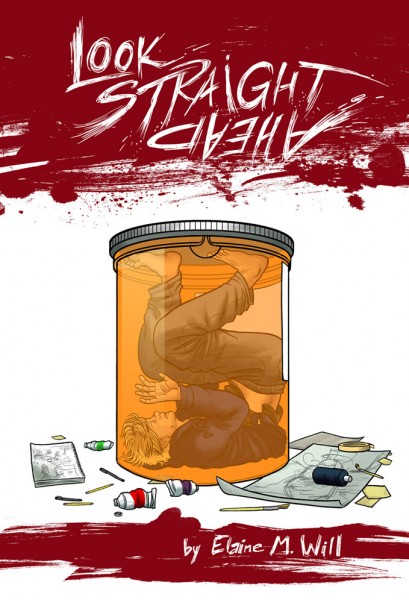 I'm sure that anybody who endured school and forever felt like society was doing its utmost to prevent them from sketching, painting or making music will emphasize with Jeremy. But as Jeremy's obsessions and anxieties manifest themselves in increasingly menacing forms, he spirals towards mental breakdown, is institutionalised and both he and those around him must come to understand the conflicting influences inside his head.
I was genuinely taken back by some of the book's imagery. When Will is at her most creative, Jeremy's shifting dreamscapes play with the fundamental comic book vocabulary to brilliant effect. I particularly liked the book's sparing use of colour which, much like Daniel Clowe's David Boring, gives the reader the impression that the imaginary is somehow more substantial than the real.
Will also shifts art styles during Jeremy's most psychotic and anxious moments. It's another extremely effective visual device which gives the reader a glimpse into the protagonist's madness. Too many comic creators willingly stifle themselves by approaching the comic as a movie on paper, and it's so refreshing to see someone push the medium to its limits.
Look Straight Ahead was one of the final Xeric grant winners, the initiative set up by Peter Laird which helped many fledging comic creators overcome that initial financial hurdle. It's a worthy book, and one which tackles its subject matter in a warm, engaging and authentic way.
The entire book can be read online over at www.e2w-illustration.com, though it's a relatively long read so I suggest you take a quick peek and then order the physical edition, and support Elaine M. Will's future efforts. She's a unique talent and one to watch out for.