Saying goodbye is never an easy thing – in fact, it's probably a sign of a TV series or videogame's quality when you find yourself wondering "what happened next?" long after its closure. Likewise Telltales Wallace & Gromit's Grand Adventures, which reaches its conclusion with fourth episode 'The Bogey Man.' Despite (or because of) some rather basic puzzles, the Grand Adventures series has provided an enjoyable monthly dose of adventure gaming, with excellent puzzles and well-scripted humour. Though the title characters will almost certainly return in one form or another, it's actually quite upsetting to consider that this might be the last we see of Major Crum, Monty Muzzle, Duncan McBiscuit and the various other denizens of Wigan. Sincerely, they'll be missed.
Having extensively written of the previous three Grand Adventures, I've detailed everything there is to write about Telltale's faux-claymation series, and so this review will look at the four episodes as a whole as much as it does 'The Bogey Man.' Though the episodes are now available individually form the Telltale Store, it's doubtful that anyone will be intent on solely playing this golf-centric finale.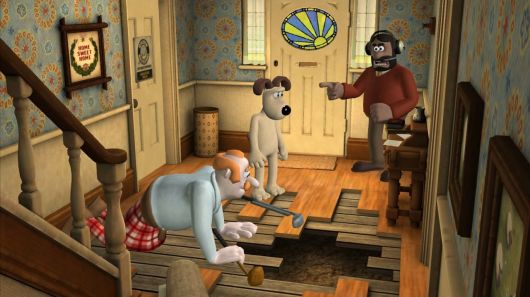 Not that 'The Bogey Man' feels like a finale; unlike Telltale's Sam & Max and Strong Bad efforts, which were held together by story arcs, each instalment of Wallace & Gromit's Grand Adventures has been pretty much self-contained. This episode does continue directly on from 'Muzzled!', which saw Wallace inadvertently propose to his gardening enthusiast neighbour Felicity Flitt, and though his faithful hound's efforts to free his master from matrimony are at the centre of this episode, it doesn't really feel like a triumphant farewell to the citizens of Wigan that we have grown to love over the last five months. Moustache twirling huckster Monty Muzzle makes a jail-bound cameo, but that's about all you're going to get in the way of closure.
Anyway, the duo's business venture this time around is 'Golden Retrieval' – a detective agency for lost objects – though their sleuthing is cut short when Felicity's Aunt Prudence arrives in town to give-or-give-not her consent to their engagement. In an effort to save his master from a life of companionship (which is a bit odd really – yes, dogs are brilliant, but they're no substitute for a human companion) Gromit does a bit of digging and discovers that Prudence will only give her blessings provided Wallace is not part of the Prickly Thicket golf club. Naturally, this encourages the super-pooch to get his master membership into Prickly Thicket.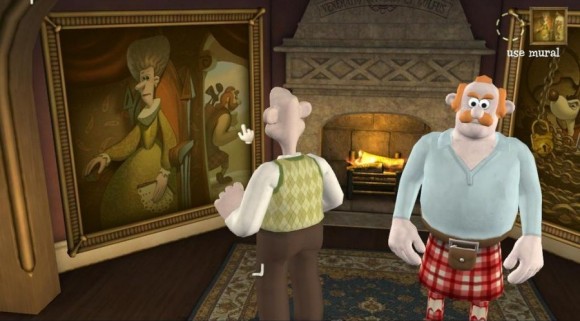 Those not accustomed to Telltale's unabashed recycling of locations and characters, regardless of whether the situation demands it, might be wonder how the point 'n' click gameplay will translate to the wide-open golf greens. Sadly it doesn't, with the final game between Duncan McBiscuit and Wallace (and his unacknowledged aid) taking place in Wigan High Street and 62 West Wallaby Street. That's right; the last hole is played within Wallace's residence. This is disappointing if hardly unexpected, but it plays too similar a joke to the holiday-at-home concept as seen in 'The Last Resort.' After the superior third episode's inventive fairground environment, I was expecting something a little more dynamic.
Thankfully, a generous portion of British humour goes a long way to alleviating these plot-related woes, and Telltale's writing team pretty much make the best of any given situation. The series' charming personality also makes it easy to forgive 'The Bogey Man's numerous glitches and occasional control issues. The review copy only made it to us on day of release, while the previous instalments have usually arrived a week in advance, so expect a patch sometime in the very near future. In any other gaming genre this episode's failings would have proven debilitating – during the frenetic final set-piece a revolving floor made selecting objects by control pad virtually impossible, while elsewhere a vital item was concealed by a poorly placed camera – but the leisurely pace of Telltale's adventure gaming (and the fact that it's impossible to die) mean that these problems are usually a minor hindrance rather than an enjoyment-wrecking aggravation.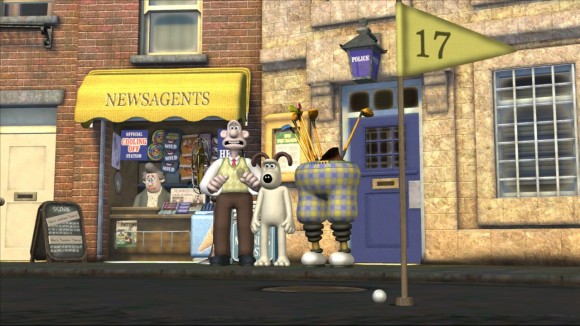 Yup, leisurely, is definitely the way to describe Grand Adventures. In fact, it'd be difficult to name a more gentle and mild-mannered game. Or indeed a more likeable and decent bunch of characters; even Highland bully Duncan McBiscuit turned out to be more emotionally challenged than outright cruel. That said, occasionally this absence of an antagonist did rob Grand Adventures of genuine involvement. Only the third episode's villainous Monty Muzzle, and his wicked plan to exploit stray greyhounds to operate a fairground attraction (not a lot of money in that, surely?) provided a worthy adversary for the witless but animal-loving Wallace and his canine buddy. It also made for by far the best episode of the series; though all four were thoroughly enjoyable and made good of their distinctly themed premises.
All in all, this has been a series for gamers who appreciate good dialogue and good-natured humour. The graphics, which replicate the clay character models down to finger prints and sculpting imperfections, and overall presentation, has been outstanding. The voice work throughout is again exceptional; and while Peter Sallis was missed as Wallace, his replacement Ben Whitehead did a decent enough job.
Verdict
Hopefully sales of Wallace & Gromit's Grand Adventures will have been good enough to secure a second season; Aardman's droll sensitivities are a perfect suitor to both adventure gaming and the episodic distribution. 'The Bogey Man' felt like a bit of an anticlimax after the first-rate third episode 'Muzzled!' but there's enough comic moments to ensure you won't complete this series feeling in any way dissatisfied. The decision to keep the four episodes largely self-contained, as opposed to the more ambitious narrative of Telltale's latest, Tales of Monkey Island, worked well, but if we do get to revisit Wallace and Gromit's plasticine world again it'd be nice to see them face a more formidable adversary… or failing that, another callous heel with an immorally ambitious but ultimately ineffectual scheme.
Episode: 7/10
Season Overall: 8/10