Much to my shame, I only read Rudyard Kipling's The Jungle Book a few years back, after Neil Gaiman mentioned it in his foreword for The Graveyard Book, and found myself equally dumbfounded by its depth, texture and timelessness.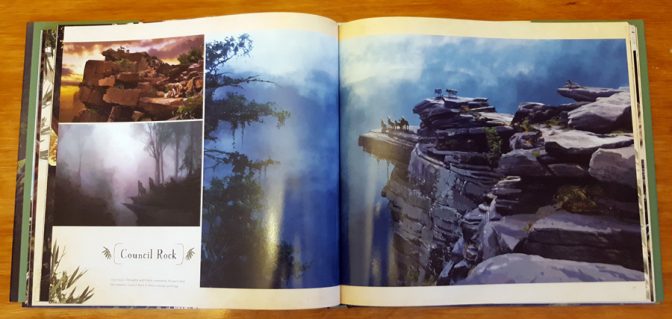 It's also a children's book heavy in allegory, one that does not talk down to its readers. Which perhaps explains why those of a literary persuasion tend to be harsh towards the Disneyfication of Kipling's layered masterpiece, overlooking the fact that the 1967 animated feature's mesmerising animation and lively musical numbers are exemplars of its own art form.
Director Jon Favreau, who in the book's foreword cites The Life of Pi, Avatar and Gravity as influences on the decision to reimagine the classic story as CGI-heavy live action, has become a dab hand at projects of this immense scale. The Art of The Jungle Book is an expectedly magnificent tome, then, full of stunning images of the lush jungle local and such celebrity denizens as Baloo, Bagheera and the enormous King Louie.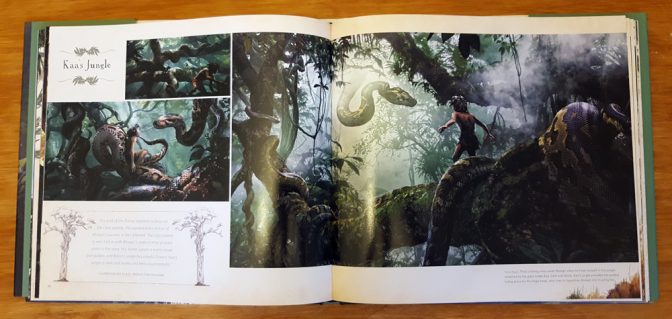 Amongst the usual concept art, behind-the-scenes photography and stills from the film, Ellen Wolff also spotlights each character with a brief interview of the voice actors behind the computer-generated entities, including Bill Murray, Scarlett Johansson and Christopher Walken. I have to admit that these celebrity endorsements are the last reason I'd buy such a splendid coffee-table book, but they're brief and of interest to readers wanting to fully delve into the process of crafting such a complex and large-scale project.
If there's one criticism I have, and it's perhaps an unfair one, it's that unlike the usual science fiction blockbusters or animated features that usually warrant such a beautiful tribute, The Art of The Jungle Book doesn't offer much in the way of discarded character designs or glimpses of alternate concepts. This is possibly because Favreau's team wisely took inspiration from both the original Disney adaptation and the source material; with characters resembling those from the former and a sense of realism and location that honours the latter.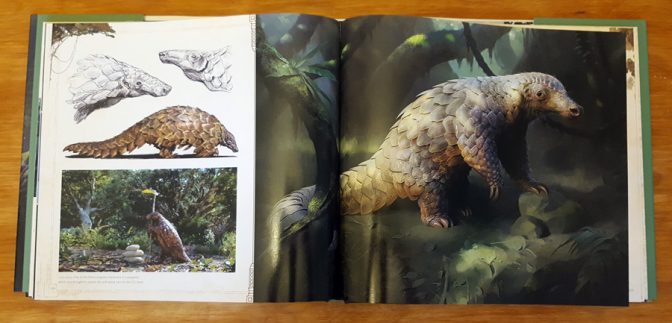 Chapter 6: 'Putting It All Together' remedies this somewhat by detailing the animation process, and how the filmmakers helped Neel Sethi better immerse himself as Mowgli, in a role that mainly consisted of the tiny thesp acting against props in front of a blue screen. There's also some fun oddities here, such as the skin for Shere Kahn's 3D model, which looks rather like a tiger rug.
All in all, The Art of The Jungle Book is another stunning volume from Titan Books, and once more reveals the level of thought, talent and affection that goes into even the most populist of Hollywood entertainment.