Bloomsbury, 2016
Written by Paul Tobin
Illustrated by Katie Abey
Okay, some disclosure: I don't usually critique, or even read, children's novels. I mistakenly accepted a review copy of How to Capture An Invisible Cat after noting that it was written by Paul Tobin. Tobin is the incredibly versatile writer of the Eisner award-winning comic Bandette, illustrated by wife Colleen Coover, a fair number of Marvel and DC superhero titles, the brilliantly gruesome Colder and such all-ages game-to-comic adaptations as Plants vs. Zombies and Angry Birds. Naturally, I assumed that this was a graphic novel.
But hey, part of the reason I still blog here at Shelf Abuse is that it persistently pushes me into trying new things. And the last children's book I (re)read was Norton Juster's The Phantom Tolbooth, which I enjoyed more than many of the esteemed literary works I read and immediately forgot in the same year.
It will probably come as no surprise to fans of Tobin's work, then, that The Genius Factor: How to Capture An Invisible Cat, is closer in tone to his all-ages comic work than Colder or his Witcher material. This first instalment in a 5-book series is a lively and laugh-out-loud funny romp that doesn't take itself at all seriously and has enough science-infused action to keep its younger readers captivated throughout.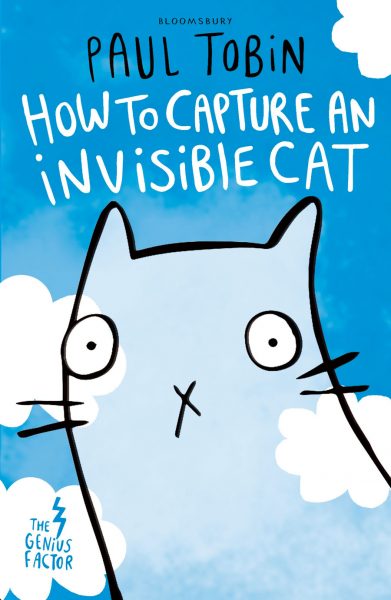 The book is narrated by the cake-obsessed Delphine, whose infatuation with lonely nerdlinger Nate Bannister sees her dragged into a race to stop Nate's gigantic feline, Proton. Not satisfied with giving his dog Bosper the ability to talk, the boy genius has decided to not only super-size Proton but render him invisible. As a way of further challenging his own intellect, Nate has also hidden the formula for the antidote across six secret places, the search for which is lent additional complication by the appearance of the Red Death Tea Society; a beverage-obsessed clandestine organisation hell-bent on world domination. But to be fair, what worthwhile clandestine organisation isn't?
How to Capture An Invisible Cat is marketed for ages 9 plus, but I had a blast reading it. Tobin's jokes come thick and fast, and the book is relentlessly fast-paced and cram-packed with charm and sheer nonsense; a statement I do not in any way intend as derogative. Even Katie Abey's sporadic illustrations are seemingly used to up to book's already hazardous levels of quirkiness more than augment the story.
So, the question is, will children like the book? Despite the madcap action, the two immensely likeable protagonists are bound by a sense of loneliness and longing. Much like the aforementioned Phantom Tolbooth, I feel that How to Capture An Invisible Cat will be most embraced by those aspiring young inventors who don't quite fit in with the regular crowd. And let's face it, they're the only kids whose hearts are worth winning.
Also, the book has a talking dog in it.