2015, Titan Comics
Written and illustrated by Jay Gunn
As much as it shames me to admit so, I started reading a digital review copy of Jay Gunn's Surface Tension with no idea what it was about and, due to my ever-expanding backlog, little intention of reading it beyond a few pages. Five few pages in and I was thoroughly gripped; indeed I read the whole damn thing in a single sitting.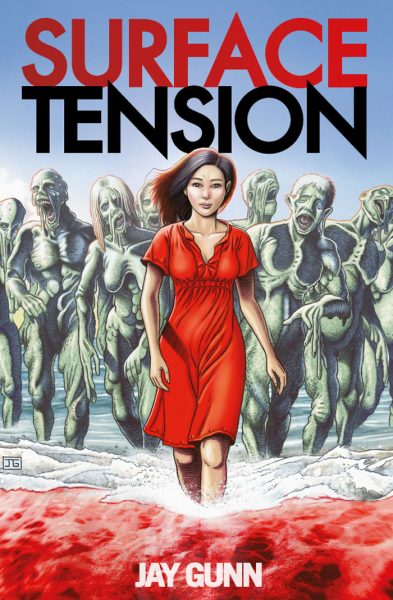 Jay Gunn's debut immediately immerses the reader in an intriguing and unique premise, set months after mysterious coral structures rose from the ocean and mesmerised almost the entire human population into the sea. When two blue-skinned humanoids are washed ashore on the remote British island of Brieth (population 8521), its surviving population are forced to confront their inner demons and unravel the cause of humankind's mass exodus.
I try to maintain a level of professional objectivity when churning out these reviews, but I loved, loved, loved this book. Gunn's rural setting and strong sense of place reminded me at times of Gary Spencer Millidge's Strangehaven, though Surface Tension eventually indulges the fantastical elements of its premise more. Stepping firmly into both fantasy and horror territory, the plot incorporates mythological selkies, a monster that would have been at home in Miyazak's Spirited Away, and aquatically disfigured humans reminiscent of HP Lovecraft's stories Dagon and The Shadow Over Innsmouth.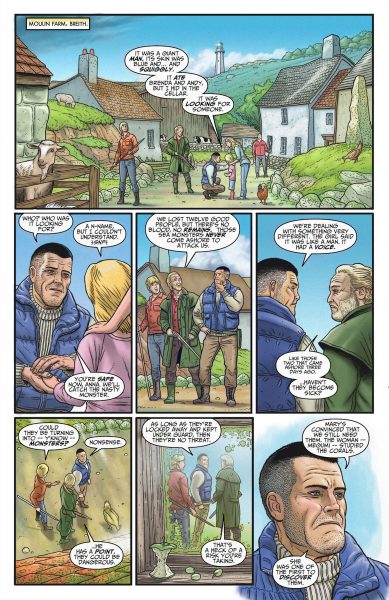 Jay Gunn's immaculate art is likewise beautifully serene on one page and explosively violent on the next, yet behind the high-concept fantasy plot are some brilliantly defined and grounded characters. In the book's extras, Gunn shares photographs of his trips to the Channel Islands; Jersey, Guernsey and Sark, which were used as influences for the fictional Brieth, as well as SketchUp models of the coastal town. He also shares a few pages of a 22-page "pilot" for the series that, while stunning to the likes of me, didn't make the grade in the eyes of its creator.
It's this attention to detail and dedication to the craft that, for me, elevated Surface Tension above similar genre works. Again, I loved it, and can't wait to see what Gunn works on yet. He's destined for great things.