This week I struggle to stay creative in an endless lockdown loop, read Hubert Selby Jr's The Room, play Resident Evil 3 and look at two great new comics: Rosemary Valero-O'Connell's Don't Go Without Me and sci-fi series Genu.
"Imagine if before this virus someone offered you the opportunity to spend the next month working full-time on your own projects for a 20% pay cut. You'd have jumped at the chance."
This is how my girlfriend put the coronavirus lockdown into perspective just a few days ago.
She's right, of course. Characteristically, this is not how things have played out.
I run the website, graphic design and branding for an audio company, a job that doesn't present much in the way of deadlines and can be quite easily relocated to my home study. Consequently, when social distancing became a concern and the UK went into lockdown, the coronavirus didn't impact my day job or life much for the first fortnight. In fact, I was all for working in my pyjamas and having jacket potatoes for lunch. However, the moment my boss announced that I'd need to go on furlough (government subsidy that constitutes 80% of your salary), something in me sank. I've struggled to concentrate or create ever since.
Theoretically, furlough is everything I could possibly want. Finally, I'd have time to finish my second novel! Work on making my webcomic project live! Build that new website. Update my portfolio and social media imagery. Sharpen my coding skills. Etcetera, etcetera, etcetera…
The problem, as anyone unfortunate enough to lose their job or face an uncertain future will testify, is that I now have all the time in the world but no sense of urgency or security, two things I've always felt essential to the creative process. Time no longer has any meaning, and a day spent staring at Animal Crossing seemingly bears no penalty. Furthermore, the audio company that employs me has been hit hard by the stall in global trade. Suddenly, drawing amateurish pictures and writing about things that don't exist seems like a naive use of one's time in the face of potential unemployment and pending economic collapse. It's not, of course, but it feels that way.
Things aren't not all bad, though. I've come to appreciate a long daily walk, and there's a sense of acceptance that slowly arrives from enduring these uncertain times. Outside of volunteering or helping loved ones, there's not much any of us can do but distract ourselves. No one, not even the pious virtue signallers on Twitter, are qualified to tell you how to best handle the 2020 Interactive Groundhog Day Experience – you've just got to do what makes you happy until it passes (providing it doesn't involve harming others, as always goes without saying). Binge that television show you feel guilty for having missed the first time round. Play those video games that are still shrink wrapped. Read those expensive graphic novels collecting dust in a pile on the floor. Have more mid-afternoon sex. Enjoy that extra glass of wine after dinner.
Do whatever makes you happy and keeps you sane.
Oh, and keep washing your filthy bloody hands.
*
Fortunately, I have enough books, films and games to last the next decade, should it come to that. My entertainment this week has been oddly pertinent. I've been reading a gift from Christmas, Hubert Selby Jr's 1971 novel The Room, which takes place entirely within the hyperactive mind of a solitary prisoner. An intense and introspective depiction of angry young man syndrome, it's a book I'd probably be enjoying a lot more were I not sharing the protagonist's predicament, and a protracted rape scene left me feeling unclean for several days.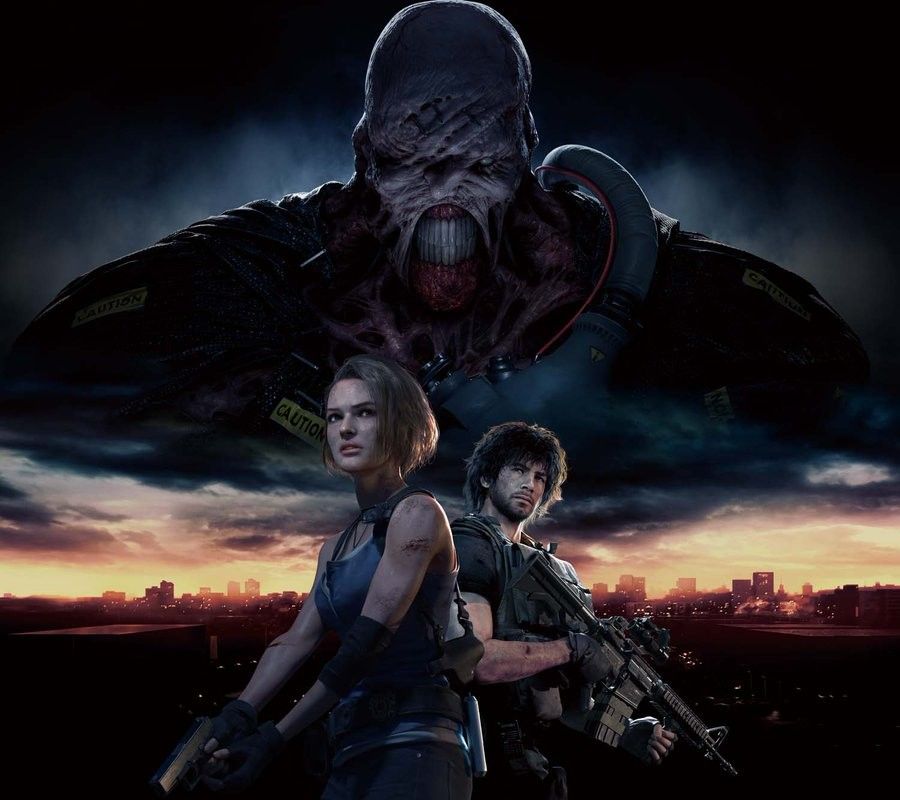 A more populist pleasure, then, was the Resident Evil 3 remake, recently hailed by Time Magazine as the first post-pandemic work of fiction. This is more down to coincidence (I'm not sure I'd call it luck) than anything else, but it's hard not to be startled by art so accurately imitating life. Resident Evil 3's live action intro, which updates us on the Raccoon City zombie outbreak via a montage of news broadcasts, is a bit close to the bone, and a segment in which Carlos Oliveira scavenges for supplies in an abandoned hospital also hit hard, with notes concerning supply shortages scattered amongst the stirring corpses.
The game's graphics and direction are jaw dropping… for the five hours it lasts. I was fine with Resident Evil 3's fleeting nature, though. I'm getting to the age where a short burst of five-star gaming is a more appealing prospect than a hundred-hour grind.
*
This week I also enjoyed two fantastic science fiction graphic novels: Rosemary Valero-O'Connell's latest, Don't Go Without Me and volume 1 of Genu.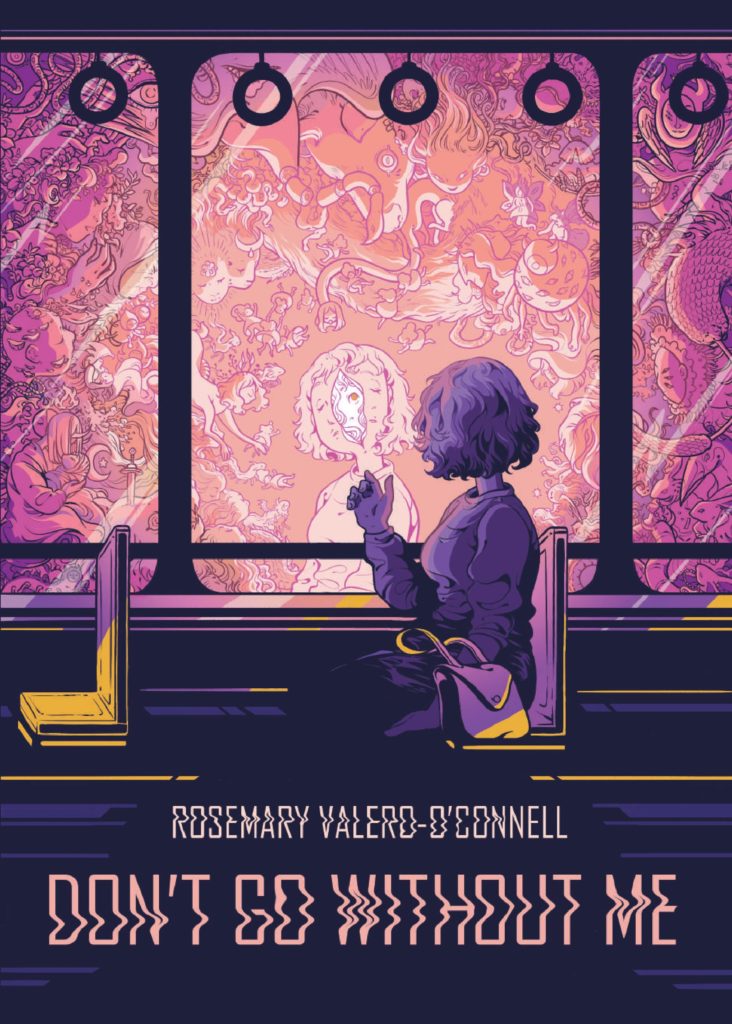 Published by ShortBox, Don't Go Without Me is a trilogy of short stories that all deal with reminiscence and existence. By far the best of the three is the Eisner-nominated 'What Is Left', in which a spaceship fuelled by memories malfunctions and leaks into space. The titular 'Don't Go Without Me' feels almost like a companion piece, following a woman's search for her lover after they are sucked into an alternate reality that feeds on reminiscence.
Rosemary Valero-O'Connell (Laura Dean Keeps Breaking Up With Me) is an incredible artist. Her work has a poetic, metaphysical quality that reminded me of Gibli movies such as Spirited Away, crafting beautiful and haunted dreamscapes in which anything goes.
I backed the kickstarter edition of Don't Go Without Me, but it's also available now on the ShortBox site, in a beautiful gold embossed physical edition.
*
The equally heady Genu Volume 1 also deals with the nature of reality, but its storyline is backed by plausible, if currently impossible, hard science.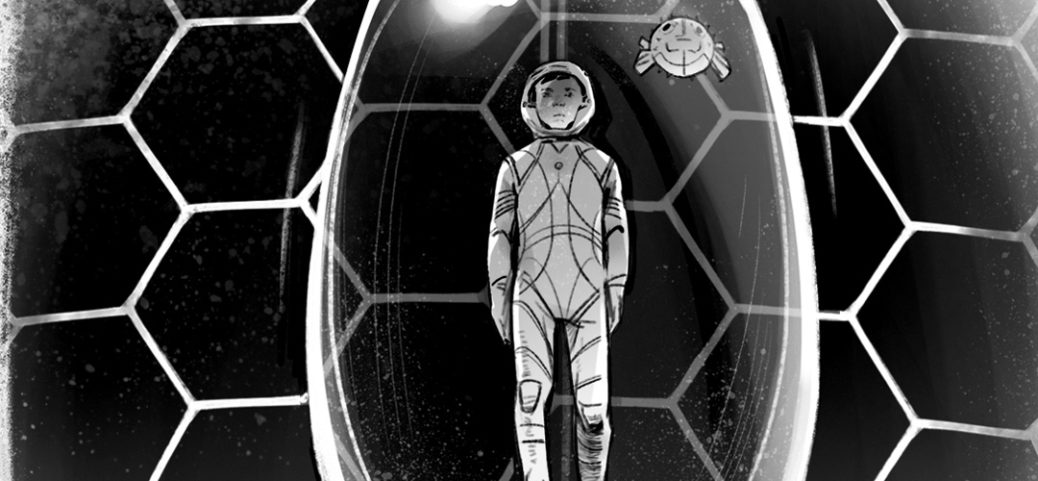 In a hundred years from now, mankind has survived Earth's finite resources planet by retreating into Data Earth, a global virtual reality program powered by a solar energy farm on Mercury. When a micro-meteoroid shower devastates Mercury's sun factory, three miners are rescued by a mysterious and advanced humanoid lifeform whose arrival threatens the future of homo sapiens.
Genu is a dazzling display of ideas and world building from Tommaso Todesca, Alex Franquelli and Giulio Srubek Tomassy, a trio of diverse and transnational writers. I loved the metafictional extracts that preceded each section (from the manifesto of the underground "Technology Is Nothing" movement), and a section after the story that explains the 22nd century science in greater detail. Aleksandra Fastovets' brilliant monochrome art has an almost unfinished urgency and storyboard quality to it, accentuated by some sleek tech designs and surreal structures that really set the series apart.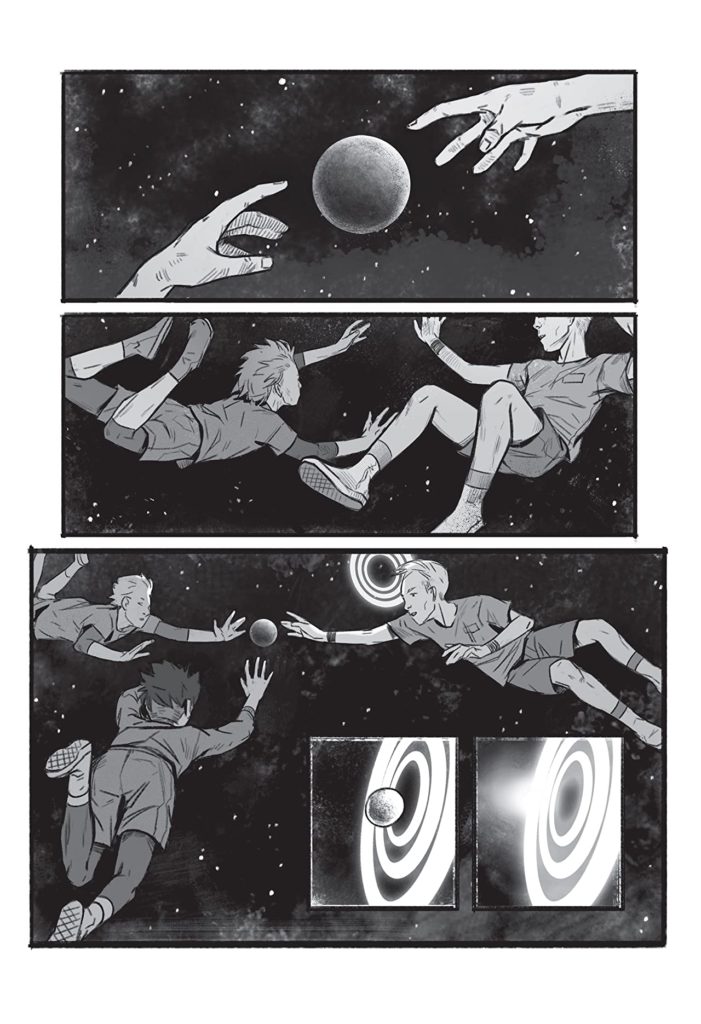 There's a lot going on in this first volume of five, and I had to read it twice to fully appreciate it. But hey, I'd rather be confused than bored, and Genu is anything but boring. The press materials that accompanied my review copy suggest we're in for quite the trip.
Genu is out now, and published by Markosia. Click that link to find a wide range of stores you can buy it from.