As a big proponent of subscription streaming services such as Spotify, I've been more than a little enticed by the Marvel Comics equivalent, Marvel Unlimited. The promise of being able to explore Marvel's extensive back catalogue at a whim is more than worth the $9.99 a month subscription.
In theory, at least. Finally, Unlimited has made its way to Android, clearly the second choice for app developers around the globe, and I just had to give it a month's trial.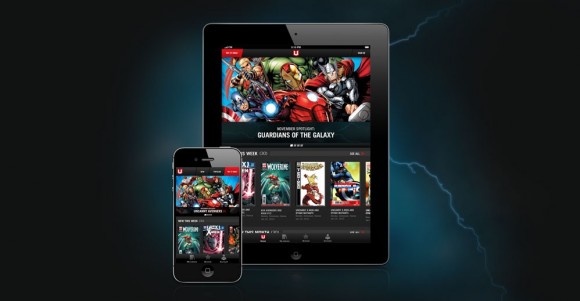 A day into using the service, it's been a smooth enough ride so far, but one that is not without a few glaring limitations, and I'm not quite convinced that the reality is delivering on the potential. So, for those in a similar quandary, I've listed a few pros and cons:
The Good:
The back catalogue is impressive. Sure, there will always be that personal favourite miniseries Unlimited is lacking, and many of the longer runs are at present incomplete – for example, Daredevil volume 1 features the first 50 or so issues, then as good as skips forward to Frank Miller's run. But overall, many of the classic "must read" runs are here in some form, and within the 13,000 comics included so far there's a strong combination of the classic, the obvious, the recent and the obscure.
There's more than enough new titles added weekly. The latest issues are still at least a year behind their paper cousins, but in an industry which still owes a lot to the local specialist store, that's to be expected. Personally, I'd buy the physical copy of anything I was that fussed over, anyway. Recent arcs that newcomers would want to catch up with, such as Avengers vs X-Men, are present and complete, and the first issues of some of the recently rebooted titles, such as Kieron Gillen's Iron Man, have just become available.
The Bad:
Reading comics via Wi-Fi is infuriatingly slooow. As wonderful as it is to search MU's back catalogue, once you actually attempt to read a comic, the process is not quite so smooth. Expect lengthy loading times between each page; which seems a little at odds with the breezy, throwaway nature of the medium. Of course, there is the option to download titles, but…
You can only download 6 issues at a time. This is probably Unlimited's biggest drawback, and something which needs to change very soon, lest it deem the entire service worthless. For some dialogue sparse comics, that's an hour's reading, and if you commute as much as I have in the past, 6 issues won't even cover a day's train journey.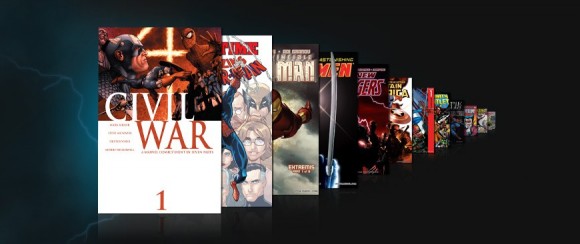 Marvel Unlimited isn't without it's problems, then. But if Marvel can extend the number of issues users are able to store on their tablets (even 12 would be adequate) then I can see myself getting more than enough use out of the service to justify the monthly subscription.
Unlimited isn't the future of comics, but it was never going to be. With a few amendments, however, it might just prove a valuable conduit for both new readers and collectors wishing to catch up with titles they either missed or couldn't afford the first time round.