Fred McNamara shares his slightly unnerving love for the Franco-Belgian icon with a look back at the fourth book in the series.
I almost daren't thumb through my lovingly tattered copy of Asterix the Gladiator for fear of the dear thing falling apart in my hands. I remember having this book in my life longer than any other book (yes, for the purposes of this half review/half feature, I'm classing the Asterix comics as books – come at me, purists). My exact edition is a tiny, envelope-sized paperback published in 1976, almost ten years after its original publication. There are creases everywhere, the artwork has faded, and the pages have that intoxicating aroma of 'musty bookshop'.
But of course, there's an obvious difference between having a book you love, and having a book that's actually any good. So, has Asterix the Gladiator, the fourth volume in Rene Goscinny and Albert Uderzo's adventures of the plucky Gaul, aged as well as my own personal copy?
Yes. Oh hells bells yes.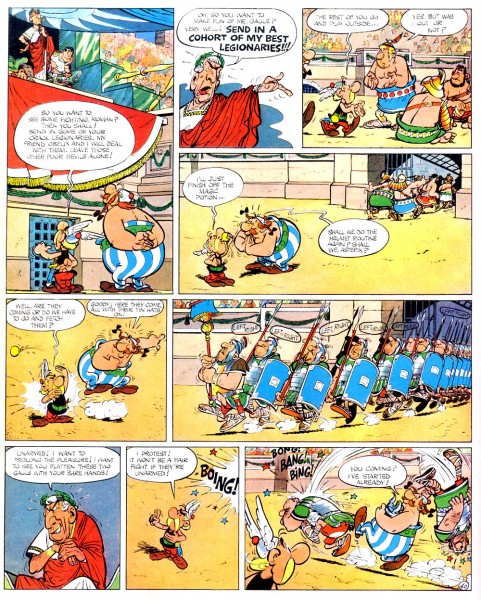 This adventure finds the village bard captured by Romans and forced to fight lions in the ring for Caser's entertainment. Asterix and Obelix are soon hot on his trail, and, on becoming gladiators themselves in order to rescue their bard, accidentally destroy the very meaning of gladiatorial games, much to the chagrin of Caser and the amusement of both the games' audience and this reader.
At the time of Asterix the Gladiator's serializing in Pilote magazine in the early 1960s, the series was still fresh out of Goscinny and Uderzo's creative womb. Dogmatix has yet to become Obelix's trust-worthy sidekick, and the story is only the second adventure that sees Asterix and Obelix venture away from their village. The continent-travelling adventures had yet to really kick in, yet one can really feel those types of adventures (which were often the best of the Asterix titles) being crafted within Asterix the Gladiator.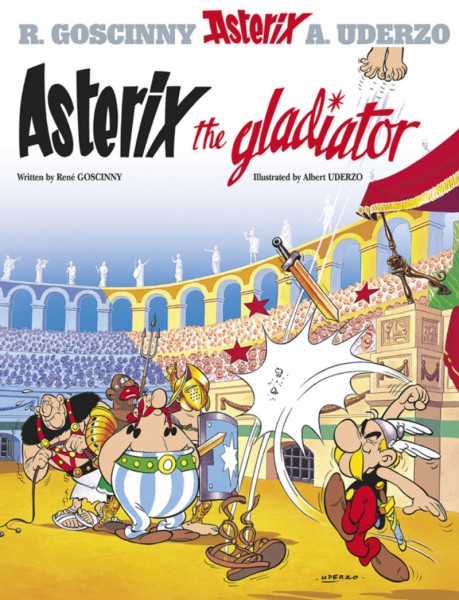 There's a lovely sense of scale to this adventure, and Asterix and Obelix meet a motley crew of gladiators and Romans who don't stand a chance against their shared wit and intelligence – and of course bottles worth of magic potion.
Asterix the Gladiator is definitely one of the most amusing reads in the Asterix titles and sets up a template for future adventures that would take the two Gauls to the ends of the Earth – just look at Asterix the Gladiator's follow-up, Asterix and the Banquet, an adventure that would see Asterix and Obelix tour most of Gaul on a bet to gather foods for the greatest banquet ever. One can't help but feel that such an adventure wouldn't have happened had Asterix the Gaul not come along beforehand and took the level of adventure to a new level.
Oh, go on then – let's leaf through this handsome little volume once more!