As we're all well-aware by now, 2016 has been a nasty, vicious little year.
I'm not saying this because of the slew of high-profile celebrities who sadly left us, because I've never been one for insincere sentimentality (though Bowie's passing so soon after the brilliant Blackstar was the one exception). And I'm not saying this because of the Brexit/Trump double whammy, because proles like me are forced to carry on merely existing regardless of who's in charge. 2016 was just a horrible, horrible year for ol' Carlos, his health, his family, his finances and his ability to get shit done.
So in writing these Top 5s, I realised that the one constant throughout 2016 is how much I've missed. Not to worry, it's not like there'll be anything else coming out next year that'll also demand my time, right?
DISCLAIMER: As ever, I present my personal favourites from what I've had time to play, watch or read. This list is in no way intended to be objective or definitive.  My top 5's are also presented in no particular order – I'd suffer a nervous breakdown trying to do so.
Top 5 Movies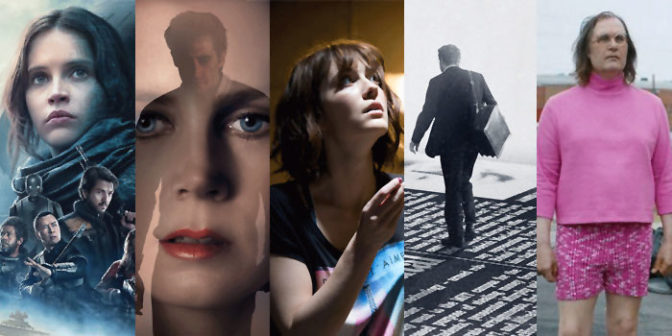 Rogue One was everything I could have wanted in a Star Wars movie and maybe a little bit more. You've done well, Disney, though I think it's time to move the franchise forward now, please.
Nocturnal Animals played through my mind for weeks with its abrupt ending, Tom Ford's slick visuals and phenomenal performances from Adams and Gyllenhaal.
10 Cloverfield Lane was so tight and thrilling in its first two acts that I was able to forgive the rather daft and unnecessary finale.
Spotlight (released in the UK in January 2016) was so minimalistic that at times it almost felt like CCTV footage, but this approach perfectly suited the subject matter, which needed no Hollywood glitter to be absorbing.
The Greasy Strangler, just because. Not a film I'd recommend to, well, most people… but it took me back to those VHS gems of the 80s, and I can't wait to see what Jim Hosking does next.
If this was a top 10…
The Witch, High Rise, Under The Shadow, Arrival, Green Room, The Edge of Seventeen, The Nice Guys, and The Invitation would all stand a chance.
Films I wish I'd seen…
Kubo and the Two Strings, The Jungle Book, Hunt for the Wilderpeople, Embrace Of The Serpent, The Handmaiden, The Little Prince, [I, Daniel Blake], Hell or High Water, Swiss Army Man, American Honey, The Neon Demon, Anomalisa… and many more.
Biggest disappointments
Quite unexpectedly, Captain America: Civil War, Batman v Superman and Suicide Squad all had me feeling the superhero fatigue for the first time in my entire life. The Coen Brothers' latest, Hail, Caesar!, also left me feeling empty. But the films that disappointed me most were The Lobster and Midnight Special, mainly because they both delivered such brilliant first acts only to go nowhere with their concepts.
Top 5 Comics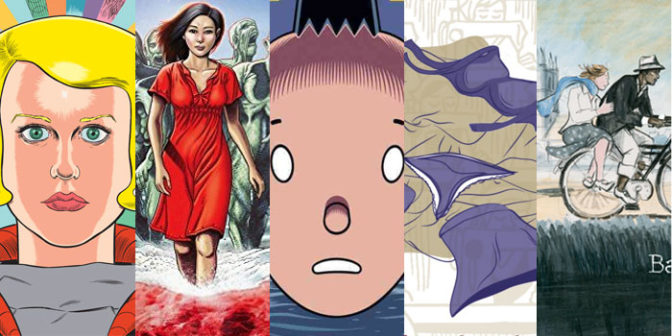 Patience may well be my second favourite Daniel Clowes book. Maybe third. Either way, it's bloody good.
Surface Tension, the debut by Jay Gunn, blew me away with its beautiful and detailed art , grounded characters and fully realised backdrop. Really looking forward to his next book.
Last Look combined Charles Burns' most recent trilogy, allowing readers to finally appreciate them as they were probably intended.
Threadbare isn't a book I'll be rereading any time soon, but it had quite the effect on me. So much of an impact, in fact, that I no longer buy brand new clothes and mainly shop in charity shops. Thanks, Anne Elizabeth Moore, you've turned me into a hobo.
Irmina, Barbara Yelin's devastating book about an idealistic German student who comes to tolerate the Nazi regime in order to survive, had me in tears by the end. And I was sitting in a cafe reading it.
If this was a top 10…

Star Wars: Darth Vader, The Red Virgin, Silver volume 2, Hubert, The Walled Trilogy: Nocturne.
Comics I wish I'd read…

The indie stuff I review at Shelf Abuse pretty much absorbed my comics reading time, so I've missed many of the most acclaimed titles of this year, despite having bought most of them. Saga, Paper Girls, Love is Love, Descender, The Wicked + The Divine and many more are sitting on my bookshelf behind me, just begging to be read.
Biggest disappointment

No titles really disappointed me, as the hundreds of indie titles I sampled were rarely preceded by hype or expectations. But 2016 was certainly the year in which I came to accept that, outside of various imprints, Marvel and DC no longer had much to offer me. With every reboot and big event, my interest diminished just that little bit more, and beyond a few acclaimed titles that I may return to, such as Daredevil or the new Doom Patrol, my interest levels in either publisher are nearing non-existent.
Top 5 Video Games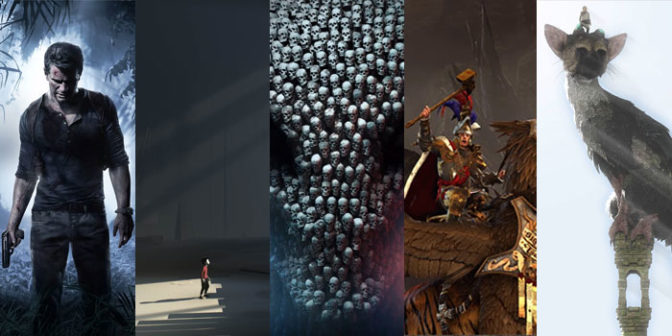 Uncharted 4 finished off one of my favourite franchises in style, with a focus on characters that I'd come to cherish. The quiet, understated ending was simply perfect, and the sort of thing only Naughty Dog could pull off.
Inside felt like the amazing game other people experienced when they played Limbo. Dark and oh-so memorable, Playdead gave players an engaging world presented only in glimpses, and Inside was all the more fascinating for it.
XCOM 2 may or may not have improved on the original, but it gave me so much to do that I eventually came to think of it as its own entity.
Total War: Warhammer provided endless potential with its distinct races and campaigns, and I can see myself playing it for years to come.
The Last Guardian wasn't perfect, but it delivered an emotional experience of the likes we haven't seen since SIE Japan Studio's previous efforts, Ico and Shadow of the Colossus.
If this was a top 10…
The Witcher 3: Blood and Wine, Dreamfall, Street Fighter V and King of Fighters XIV would all find a place, though there were likely many great games I missed this year.
Games I wish I'd played…
Dark Souls III, Deus Ex: Mankind Divided, Firewatch, Dishonored 2, The Banner Saga 2, No Man's Sky, Oxenfree, Shadow Tactics, The Witness, and a hundred more indie titles…
Biggest disappointment
Street Fighter V, despite also being one of my favourite games of 2016, takes the prize with its disastrous launch and an approach to DLC that felt like a slap round the chops to the series' loyal fans. Capcom still hasn't fixed a lot of the game's issues, either, which is a tragedy given how incredible SFV's core gameplay is; no other fighting game offers similar levels of depth and fluidity.
Top 5 TV Shows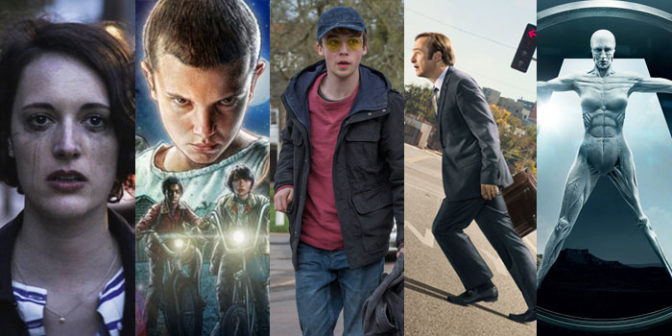 Fleabag's finale broke me, like a hurtful lie you feel stupid for having not realised earlier.
Stranger Things looked to deliver little more than lavish nostalgia, but its characters won me over more than expected. Cool monster, too.
Black Mirror once again showcased Charlie Brooker's talent as a dystopian writer, and while there were a few duds this season, both San Junipero and Shut Up and Dance managed to get under my skin and question my conflicted relationship with technology.
Better Call Saul managed to coil itself tightly around the events of Breaking Bad while building an even stronger identity for itself.
Westworld was so cinematic and intricately plotted that I still haven't finished watching it – I'm trying to savour each episode like one would a fine scotch.
If this was a top 10…
Daredevil season 2 and… er, dunno.
TV I wish I'd watched…
Game of Thrones season 6, The Americans, The Night Manager, Horace and Pete, Mr Robot, The Flash season 3, Transparent, The Night of.
Biggest disappointment
Luke Cage was merely okay, and seriously dropped the ball with its eleventh hour villain, while Preacher was a clueless adaption that captured none of the source material's heart. But the biggest TV disappointment this year has to be the turgid seventh season of The Walking Dead, with the ludicrous Negan feeling as though he'd been drafted in from a completely different show. Despite a strong performance from Jeffrey Dean Morgan, nothing about either Negan or the Saviours makes sense in the world that The Walking Dead has slowly established, and he isn't nearly as funny, charming or threatening as the showrunners seem to think he is.
Novels
For me, 2016 will be the year in which I fell out of reading. Not sure what happened there. Maybe it was the combination of work-related stress, endless renovations on our first home and family drama that left me with little time and even less energy. My pathetic reading rate has definitely shown in both my writing and my deficit of ideas. So, while everyone else will be hitting 2017 with exercise-based goals, my sole resolution is to resume a healthy reading regime. Starting with Alan Moore's gigantic tome Jerusalem… gulp.
Other Mentions
2016 was the year I reached all-new levels of appreciation for the work of David Bowie. I've always been a fan, but his death provided a reason to listen to everything he ever recorded in chronological order. Three times over. That's right, even Tonight and Never Let me Down.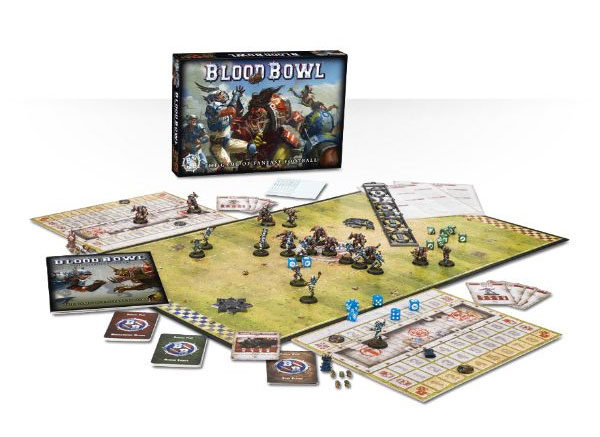 After one of my girlfriend's mates bought us a copy of Tokaido as a moving-in present, my love for board games was likewise reignited. This mild delight swerved into full-on obsession with the re-re-release of Blood Bowl, the long-neglected Games Workshop game of fantasy football. I've so far bought everything related to that game and its video game counterpart, and can't wait for the Dwarfs and the Mighty Zug to release. Sometimes it's fun to ignore the fact that you're now an adult.