Marvel
Writer: Jeff Parker
Art: Gabriel Hardman, Paul Rivoche
Colours: Elizabeth Dismang
There are certain comic writers whose name is essentially a seal of consistent quality. Even when Moore, Gaiman and Ennis are at their worst they still produce work that is nothing less than interesting. Jeff Parker might soon have to be added to that list; from the Agents of ATLAS miniseries through to this Dark Reign entangled regular run, he's not put a foot wrong. Relentlessly paced and on an epic scale yet still rife with brilliantly funny character moments, ATLAS is consistently the best series Marvel is currently publishing.
The second part of 'Terror of the Jade Claw', in which Jimmy Woo's former love Suwan is exposed as the next Big Bad, wasn't the most eventful issue so far. But like Brubaker's Daredevil run, Parker's issues are structured so that they'll ultimately read best in a collected volume, with each issue nevertheless providing enough action, revelations and character defining moments that it's impossible to feel anything but satisfied when digesting the book on a monthly basis.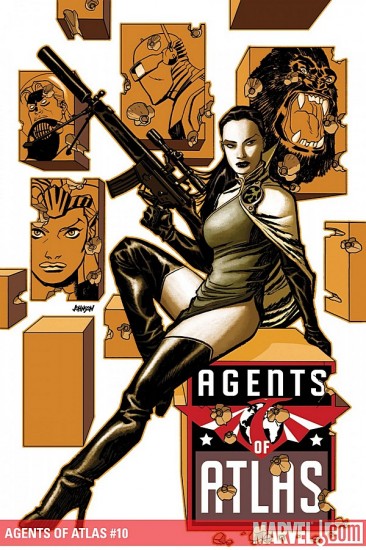 Temugin, son to the Mandarin and Woo's second in command, is becoming an increasingly interesting character. His sympathy for the mistreated workers at a Botswana diamond mine revealed an extra layer of depth; though he is physically capable of acting as Wong's second, it's in these little moments that Parker is capable of justifying what felt like a sudden and irrational decision. And all in a single page.
Elsewhere, M-11 gets an upgrade courtesy of Dr. Zu, a mad scientist who has been toiling away in an ATLAS vault for donkers. That Ken Hale asks the emotionless machine if it's okay with said alteration really defines this team, and the enduring relationship they have with one another.
Agents of ATLAS is currently looking to be the Marvel equivalent of DC's Checkmate – an unswervingly inventive and critically lauded superhero series that will continue to receive poor sales until it is inevitably cancelled. Marvel are doing their best, with a 3-part X-men crossover commencing next month, but Gorilla Man and company urgently need your pennies, people.
8/10