Dark Horse
Story and art: Mario & Gilbert Hernandez
Struggling for a reasonable way to begin this review, I realised that there's really no point in analysing or discussing Citizen Rex, the new series by two of the three Hernandez siblings. From Love and Rockets to their work on Mister X, the Brothers Hernandez have a style of storytelling so idiosyncratic that anyone yet to be exposed to their quirky, alternative approach to comics has probably never looked in the right place for them, and is therefore not going to interested anyway. Those who have will obviously love this series regardless o what I think.
Surprisingly, this series is published by Dark Horse, which is about as mainstream as Mario and Gilbert could possibly go, though the trademark black/white art and homemade production values are thankfully intact. In this distinct view of the future, man is serviced by robots which, after it became possible to make lifelike machines, are now designed to appear distinguishable from humans. Enter Sergio Bauntin, a web columnist who specialises in debunking the Orwellian government's latest exercises in propaganda, as he's sucked into a surreal nightmare of prosthetic limbs, anti-robot movements and unwitting androids.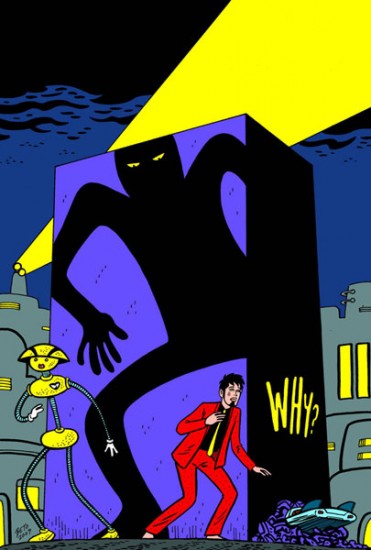 This book is indeed an acquired taste. Some will appreciate the wealth of ideas, even if the book throws a new one at you with every page. Many more will love the eclectic costumes and retro robots that would have been rejected by even the most optimistic sci-fi visionaries of the 1950s. Despite the familiar riffs it plays from works such as Bladerunner and 1984, Citizen Rex feels brave and unpredictable.
But this issue suffers from being odd for oddity's sake; there's little attempt at the commentary that Orwell or Asimov inspired so many with, despite the promotional material's promise that the title will touch upon "what it means to be human". On the one hand it's impossible to say what the Hernandez brothers have in store for Issue 2 of this futuristic satire, but on the other it's equally difficult to care.
5/10