DC
Writer: Judd Winick
Pencils: Ed Benes
Inks: Rob Hunter
Colours: Ian Hannin, JD Smith
It's transition time in this epilogue to Battle for the Cowl, as Dick Grayson is forced to accept that the role of Batman cannot end with Bruce Wayne. Judd Winick didn't exactly have an easy undertaking with this issue; Grant Morrison's zany Batman & Robin series debuted the new dynamic duo a week earlier, and it would be easy to dismiss this issue as filler material. But it's anything but, and Winick does a superb job, defining the new Batman as well as honouring the last.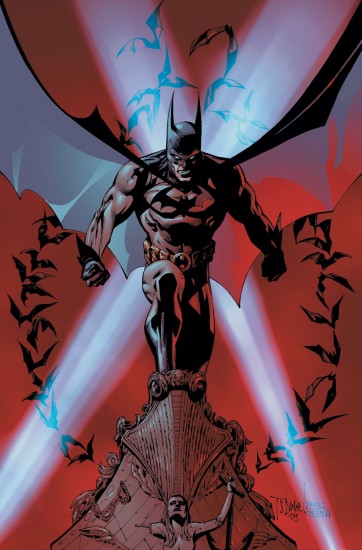 Dick Grayson may have been the obvious choice to succeed Bruce, but that doesn't make him any less the right choice. This issue emphasises that Grayson will be a different Batman, deliberately differentiating himself from Wayne by relocating from the Batcave. Grayson is also a more human Caped Crusader, and his relationships with Alfred and Damien looks to be less belligerent than the emotionally closeted Bruce. Winick does a great job here with Alfred, whose his stiff-upper lipped reaction to his surrogate son's death is handled with a warm, slight touch that the numerous Batman series have recently forgone for the overflowing plots of Batman: R.I.P. and Battle for the Cowl.
All in all, 'The Battle within' is a very promising start to the new Dark Knight. Ed Bene's illustrations (Supergirl, JLA) do a good job of balancing his usual pin-up superhero styling with this issue's overall sombre tone. Perhaps eclipsed by Morrison's greatly hyped and irreverent take, this is just as worthwhile and accessible a jumping on point for new readers and almost, almost makes you wonder why DC didn't "kill" Bruce sooner.
9/10