DC
Writer: Greg Rucka
Art: J.H. Williams III, Cully Hamner
Colours: Dave Stewart
I must confess that I had no real interest in the new Batwoman fronted Detective Comics, and only bought the issue for J.H. William's art. But I'm glad to be proven wrong. Greg Rucka's work on this series has the making of a truly great run, with a distinctly fragile heroine.
Despite the fuss that this "lipstick lesbian" incarnation of Batwoman received from the British tabloids, Kate Kane has already become a far more interesting character than was introduced in 52. I love that the flowing red hair she flaunts as her night-time alter ego is a wig. Not only does it present a level of practicality that is rarely touched upon in superhero comics, but speaks volume about Kate herself.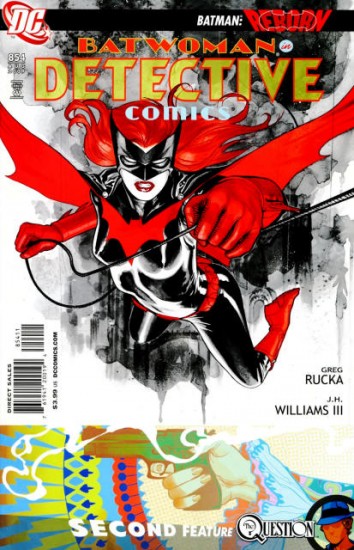 Kate's relationship with her ex-military father is also an unconventional one, and it's nice to see Greg Rucka taking an intimate approach to this series. So many first issues (which this technically is) suffer from writers determined to convince us that the principle characters are larger, louder and cooler than anything we've seen before. Here Rucka does the reverse, making Kate a more dejected, arguably pathetic character than when she was first introduced, but one who is thoroughly human. The argument between her and ex-girlfriend Anna could easily have come across as heavy-handed, but Rucka tackles these scenes sensibly.
The art by J.H. Williams (Promethea, Desolation Jones) is reason enough to buy this issue, with his sophisticated panel composition simply in a league of its own. The simple red/black colour scheme of the Batwoman costume is also used to considerable effect, as Williams switches between two distinct art styles to represent Kate's dualistic life.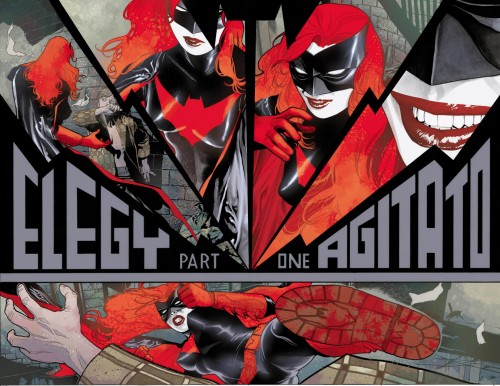 This title now also includes a second feature starring the Question, though at 8 pages it barely has space to get going. It's a shame that after the excellent plot strand in 52, which saw Renee Montoya inherit the mask, and the decent Crime Bible miniseries, that one of DC's finest characters has been relegated to a backup story. But there you go.
8/10