DC
Writer: Kevin Smith
Pencils: Walt Flanagan
Inks: Art Thibert
Colours: Art Lyon
Following the critically lambasted Cacophony miniseries, Kevin Smith and Walt Flanagan unite once more to bring us another ill-conceived Batman limited-series. Six-part series The Widening Gyre – the title presumably taken from Yeat's 'The Second Coming' – is a moderate improvement on its predecessor, but panders a considerable chunk of its 40 pages on a cringe-inducing flashback scene concerning gaudy Super Nazis attacking a mosque and far too many senseless cameos.
Issue 1 also saw the occupation of Arkham Asylum by Poison Ivy, a fight with Killer Croc swiftly followed by a confrontation with Etrigan the Demon, a shoot-out in a supermarket, appearances by Joker and Two-face… yet from this issue alone it's near impossible to deduce exact what the plot of this series is going to be. The appearance of a mysterious new vigilante in Gotham came 30 pages too late, and while I assume he is going to be central to The Widening Gyre his role was far too pithy for anyone to get excited over yet.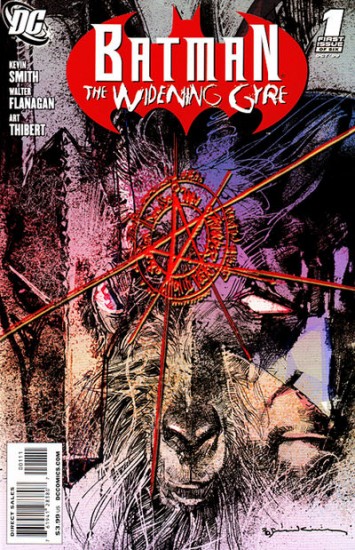 From a writing perspective Batman's inner monologue has always been a key element of the character, but Kevin Smith overplays the narration to almost comical effect. From filling us in on Killer Croc's back-story to persistently waxing lyrical about Nightwing's crime-fighting aptitude, Smith is so intent on filling every page with words that Flanagan's decent art is rarely allowed to speak for itself.
The first issue of Batman: The Widening Gyre isn't terrible by any means, but I'd struggle to recommend it. This series has the potential to improve, but with so many superior Batman Reborn titles currently on the shelves, you have to ask if Smith's star quality alone is worth $3.99 (times six).
6/10