Marvel
Writer: Gregg Hurwitz
Pencils: Jerome Opeña
Colours: Dan Brown
Moon Knight has always lurked on the periphery of the Marvel Universe; never popular enough to sustain his own series for more than few years but always welcomed by fans when he appears in games as Ultimate Alliance and Spider-Man: Web of Shadows. Mark Spectre's return to the cowl in the 2006 series began with an excellent tale of redemption by Charlie Huston and David Finch, but soon ran out of steam and was cancelled after just 30 issues. Several slight costume alterations and a 'Vengeance of the…' now preceding the title and Marvel are giving Spectre his fifth chance at a three figure run.
Gregg Hurwitz doesn't attempt much with this issue, other than to accentuate through several acts of vigilantism that Moon Knight has returned, having previously faked his death to escape the registration act. But Spectre's return is handled with a level of panache, much of which can be attributed to Jerome Opeña's outstanding pencils.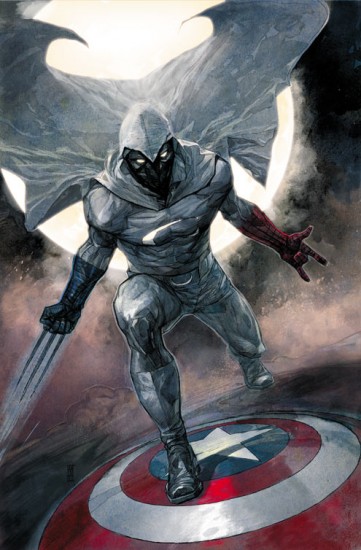 Still plagued by visions of Bushman, the villain he viciously murdered, Spectre also appears to have re-evaluated his role as a hero somewhat, and contrary to the book's title appears to be seeking atonement rather than vengeance. It's a wise move, and will hopefully help distinguish Moon Knight from other costumed sociopaths such as the Punisher, Deadpool and Solo.
This issue also features a reprint of the first ever issue of Moon Knight (the character had appeared elsewhere before getting his own series). A messy and banal origin story, if nothing else it demonstrates how far comic book storytelling techniques have come in the past three decades.
Vengeance of the Moon Knight #1 doesn't do anything revolutionary with the character, but it then this series didn't really need a reboot to begin with. In giving Spectre renewed purpose Hurwitz has made Moon Knight's comeback one of the more interesting aspects of Dark Reign, even if a late appearance by the Sentry does parallel Rick Remender's recent Punisher arc (which Opeña also illustrated) beyond the brink of déjà vu and into the territory of "not again…".
 7/10