May 31st 2017, Titan Comics
Story: Nick Kyme
Art: Jack Jadson
Inks: Nelson Pereria, Sandro Ribeiro
Colours: Fabricio Guerra
If there's one thing I possibly love more than comic books, it's Blood Bowl. I fell in love with Games Workshop's madcap game of fantasy football the moment I was exposed to it in the early nineties (I was 12 when the third edition released).  An antithesis to the usual po-faced fantasy tropes, Blood Bowl's alternate-Warhammer universe was unashamedly nonsense; even the board game itself is designed to break the will of anyone who takes it remotely seriously.
So, when Titan Comics announced that it would be publishing a new 4-part miniseries based on the game, I was equal measures excited and apprehensive. While I haven't read the novels based in the Bowl universe, Boom! Studios' 2009 attempt at adapting its world into comics didn't exactly sparkle, even if its visuals successfully captured the fictional sport's anarchic tone.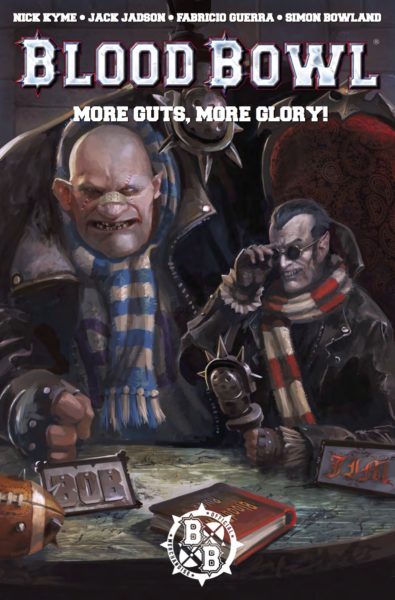 Nick Kyme (Warhammer 40,000) wisely takes a more cautious approach at forging the Blood Bowl mythos (which enjoys an even more inconsistent timeline than Red Dwarf) into a basic narrative, telling the riches-to-rags-to-riches origin of Dreng Sturnblud. A former human star player who's hit rock-bottom, Sturnblud is offered the chance of a comeback by a mysterious stranger. Typically, that chance comes with a price: joining halfling team the Mootland Munchers and surviving a match against a brutal orc force.
Introducing the world and its beautiful game through the eyes of a miserable underdog isn't exactly inspired but hey, it works. Kyme makes great use of this first issue to set up the story of Sturnblud and his eventual human team the Hochland Harbingers. The art, from Jack Jadson (Teen Titans, Birds of Prey), Nelson Pereria, Sandro Ribeiro and Fabricio Guerra, is vibrant and kinetic. While the depicted matches and character designs occasionally feel a bit sanitised, the world that these guys set up is detailed and engaging.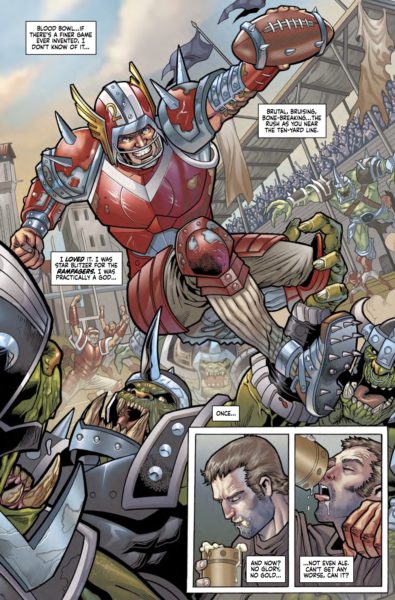 I guess my one rather petty complaint with this first issue is that it doesn't quite know who it's aimed at. Kyme doesn't make any effort to introduce the game to the uninitiated, yet the book is light on references to the game's colourful and dense "fluff", with only a few cameos or recognisable players. Though yes, commentators Jim and Bob do make a brief appearance.
If this review sounds a little lukewarm, that couldn't be further from the truth. I guess that Blood Bowl has always been a property that doesn't lend itself well to anything beyond a board game, and for years I've had my own, very personal vision of its world in my head, built around imagery conjured up by the late great Wayne England. Even the video game adaptations have generally stuck to offering a faithful adaptation of the physical game; the few attempts to do otherwise have proven lacklustre.
In short, Kyme and Jadson had a-near impossible task ahead of them, yet within 26 pages my initial apprehensions had worn away and I found myself thoroughly stoked for the second instalment. Here's hoping the series sees Dreng and the Hochland Harbingers go up against some more established teams and star players.