Writer: Ed Brubaker
Artists: Michael Lark, John Lucas, Stefano Gaudiano
Colourist: Matt Hollingsworth
Wilson Fisk is back in town and already the body count is sky high; though so far the bodies being counted are predominantly his own men. He's now hired the psychotic Owl, an oddball Daredevil villain who has undergone more reinventions than Spider-man has had reboots.
Amongst all the bloodshed on the horizon, perhaps the biggest shock this issue was the argument between Matt Murdock and Foggy Nelson, which ended in Murdock being fired. It's perhaps a defining moment for the faithful Foggy, though not entirely unexpected; Daredevil has frequently proved his own worst enemy, with his romances often verging towards pitiful self-destruction. But that's what Ed Brubaker does best, as he did with Captain America, shaking up an established series without losing track of what makes it work.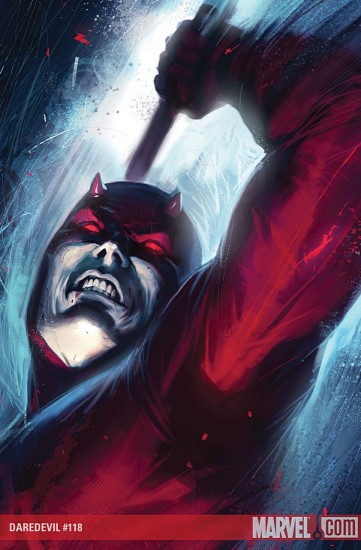 I'm still not a fan of Master Izo, the blind samurai who has been ripped straight from the movie Zatoichi; the mystical Asian master cliché has been done to death. Yet there's something about the character that suggests some impending revelations. Brubaker is a smart writer, and I wouldn't be surprised if Izo's past with The Hand shakes the entire Lady Bullseye plot upside down when it's eventually exposed.
If I could collect only one monthly title, it would be Daredevil. While this was a pretty uneventful issue that will read far better in a trade paperback, with Ed Brubaker's run on this series reaching an end there's a sense of momentousness about the Kingpin's forthcoming face-off with Lady Bullseye. Unlike Brian Michael Bendis' regular issue-long discourses in New Avengers's, Brubaker's deliberate pacing always feels like it's going somewhere.
8/10